Plastic has become a part of our daily lives, but many of us are unaware of the consequence of using so much plastic. Plastic is non-biodegradable and not recyclable, which means it accumulates and pollutes the environment. Every year millions of plastic wastes end up in landfills and oceans, destroying the natural habitats of multiple species and causing severe damage to the ecosystem. It is high time we think about avoiding plastics and going for plastic-free alternatives to make our lives and environment healthier, cleaner, and more sustainable. 
Increasing plastic pollution is a serious concern for our environment, and we must take some conscious steps to address this problem. Some changes in our habits and lifestyles can significantly reduce the use of plastics and create a huge impact in improving our environment. 
This article discusses top plastic free books written by expert columnists and environmentalists that provide helpful tips on reducing plastic use in all areas of life. The informative and analytical views and interesting facts make these books worth reading and guide us about implementable solutions to deal with the problem of plastic pollution. 
10 Best Plastic Free Books to Read in 2023 
1. How to Give up Plastic: A Guide to Changing the World, One Plastic Bottle at a Time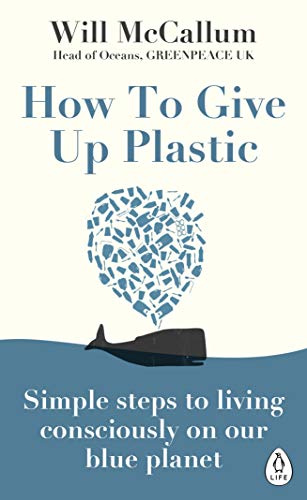 This book is written by Greenpeace activist Will McCallum who provides some straightforward ways to identify disposable plastic items in our everyday use and replace them with sustainable alternatives that are recyclable or biodegradable. 
After reading this book, you will be motivated to pursue businesses and leaders in your community to take effective steps to eliminate single-use plastics and develop more eco-friendly alternatives. This book guides us about the changes we can make to avoid disposable plastic and save lives on land and the ocean from plastic waste. 
2. Plastic Free – The Inspiring Story of a Global Environmental Movement and Why It Matters
This book provides insights into how the world's leading environmental campaigns took off and the lessons learned from these activities. Rebecca Prince-Ruiz describes the plastic-free July movement involving a 250-million-strong community across 177 countries, empowering people to reduce single-use plastic consumption and create a cleaner future. 
It narrates the marine-debris research expeditions and opinions from participants, activists, and experts. This book tells the inspiring story of how ordinary people have created change in their homes, communities, and workplaces to keep the environment free from plastic pollution.
Related: 45 Catchy No Plastic Slogans
 3. A Zero Waste Life: In Thirty Days 
This book by Anita Vandyke tells about how to live a zero-waste life and gain more time, money, and life in return. The author provides a practical guide to changing your daily habits that can help eliminate plastic in your life in 30 days. 
It is a guide to making small lifestyle changes to reduce your waste radically. Based on 30 lifestyle rules and handy tips, this practical book offers some new yet practical approaches to reducing waste and living a cleaner life.
 4. How to live plastic free: a day in the life of a plastic detox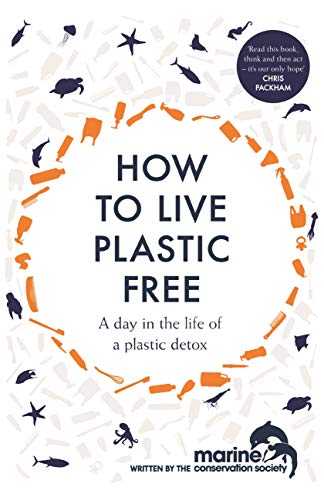 This is a brilliant handbook written by people to share some practical experiences of their struggle and success in maintaining a plastic-free lifestyle. This book is a good read, full of advice on how to go plastic free in our daily lives. This book gives insights into some interesting ways to go plastic free with little steps that can make a big difference.
5. How to save the world for free
In this book, the writer Natalie Fee puts her views and suggestions for making positive changes in the world around us by managing habits and choices relating to all areas of your life. The suggested ways are completely free or require a small initial outlay and should save money in the long run by avoiding pollution. He emphasises how small actions can lead to effective results in saving the world from the impact of plastic pollution.
6. No more rubbish excuses
:
How to reduce your waste and why you must do it now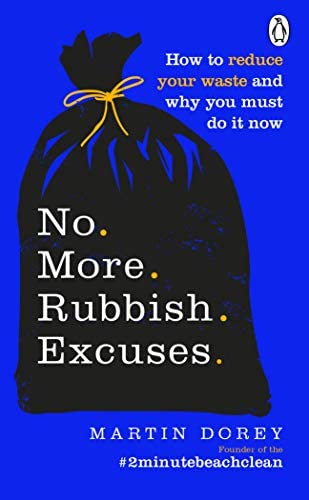 In this book,  Martin Dorey drives us to introspect and analyse how much rubbish we generate daily. He explains the problem of plastic pollution that is caused by items we use and consume regularly. He offers some simple solutions to implement in our everyday lives to reduce plastic use and make the environment cleaner.
7. Waste not every day: 365 ways to reduce, reuse, reconnect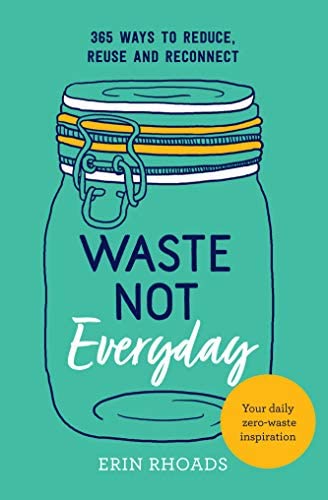 This is a wonderful book by Erin Rhoads with 365 suggestions to repair, reduce and rethink before using a product to reduce the impact of plastic pollution. He talks about recycling which should be the last stage and encourages making in-house products with plastic-free components that aim to reduce waste and pollution.
Related: Why You Need to Use Eco Friendly Phone Cases to Accessorise Your Mobile?
8. Save the world: There is no planet B
This famous book by Louise Bradford states practical suggestions for living a more sustainable lifestyle, reducing the impact of environmental pollution on the earth. This book guides avoiding unnecessary plastic use and leading a minimalist life. 
9. Turning the tide on plastic: Hoe humanity (and you) can make our globe clean again
This book is written by the journalist Lucy Siegle, sharing some real-life experiences and examples of dealing with plastic menace in everyday life and how to overcome it. She motivates everyone to look around to see the extent of plastic use and find simple ways to eliminate it. This book is a good resource about plastic-free alternative products, recyclable and reusable materials, and how we can use those for our benefit. 
10. Clean green tips and recipes for a naturally clean, more sustainable home
This illustrated book by Jen Chillingworth is full of practical and simple suggestions to make our environment cleaner and greener. It focuses on making homemade products for daily use, replacing chemical combinations with natural materials like plant-based ingredients. It would help reduce single-use plastic consumption considerably and avoid exposure to the toxic effects of chemicals daily. 
Conclusion
Plastic pollution is increasing, and before looking for big corporations to clean up the environment, we as a community have a duty to do our best to save the planet by reducing the use of plastic products. The books discussed above can guide us to take small actions that can lead to big differences toward a positive outcome.
—
Browse the I'm Plastic Free platform to discover plastic pollution solutions.