The right eye cream can nourish the skin around your eyes to help you withstand the wear and tear that comes with age. The dark patches around the eyes come as signs of aging so you need some good eye creams that take care of it. But like many other beauty products, eye creams are also not chemical free and contain some traces of plastic components that might affect the skin in the long run. 
Customer preference is gradually changing with increased awareness about plastic-free products and their side effects on the body and health. That's why many manufacturers of beauty products have come up with environment-friendly, plastic-free eye creams that are not only incredibly effective and safe for your skin, but also help to maintain a sustainable and zero-waste lifestyle.
Plastic is not biodegradable so plastic disposal only leads to higher waste accumulation on earth, polluting the environment around us. Some changes in our habits and lifestyles can effectively create a positive impact on the environment. 
Few brands of beauty products have taken steps in saving the earth by bringing some significant changes from production to packaging and helping to build a zero-waste routine. In this article, we provide details of zero-waste, plastic-free eye creams that can take care of your skin in a safer and eco-friendly way. As more and more sustainable beauty brands are launching cosmetics that do not contain plastic neither in the product, nor in the packaging, the term "plastic free skincare" is growing and we have highlighted its meaning in a separate blog article.   
Plastic Free Eye Creams
The manufacturers of beauty care products are applying innovative raw materials and production methods that aim to cater to consumers with more environment-friendly products. 
The increased awareness of healthy habits and sustainable lifestyles has driven customers to go for plastic-free skin care products. The plastic-free, zero-waste eye creams are free from harmful chemicals and take care of your eye area by keeping it soft, moisturized, and nourished. Some of the popular brands of eye creams as mentioned as follows:
Under Eye Serum Red Banana and Potato Starch by Forest Essentials
This brand uses ayurvedic herbs in making eye creams that improve the appearance of the eyes. It also nourishes your skin and diminishes the aging effect.
It contains coffee beans, red banana flower, Potato starch, and wheat protein that helps in skin nourishment and gives a youthful appearance. The ayurvedic blend of the eye cream helps reduce dark circles around the eyes and the antioxidant-rich serum diminishes puffiness. 
Potato starch is a natural ingredient that reduces the pigmentation of the skin. The red banana flower is enriched with vitamins and minerals that nourish sensitive skin. This eye cream has no adverse side effects because of its chemical-free and plastic-free formulation. The packaging is made of eco-friendly materials which also takes care of plastic pollution and reduces environmental pollution due to plastic waste.
Coffee Bean Under Eye Cream by Organic Kitchen
This eye cream is made up of Rosehip and vitamin E, that moisturizes the dry skin around the eyes and makes the eyes look bright and refreshing. It also contains coffee bean extracts that enrich the skin with vitamins and decrease puffiness. It has a rich creamy body that does not become greasy on use. 
Regular use of this eye cream improves the dryness of skin, reduces the appearance of fine lines, and removes dark circles. It is free of parabens, sulfates, or any other chemicals and added fragrances. 
The rosehip oil hydrates the skin and protects the skin from chemicals. Coffee bean extract reduces fluid retention to avoid fluffiness. 
The vitamin-rich natural ingredients of this eye cream prevent damage to the skin from UV damage by increasing the SPF and increasing brightness and reducing the appearance of dark circles.
Caffeine & Cucumber Under Eye Cream by Neemli Naturals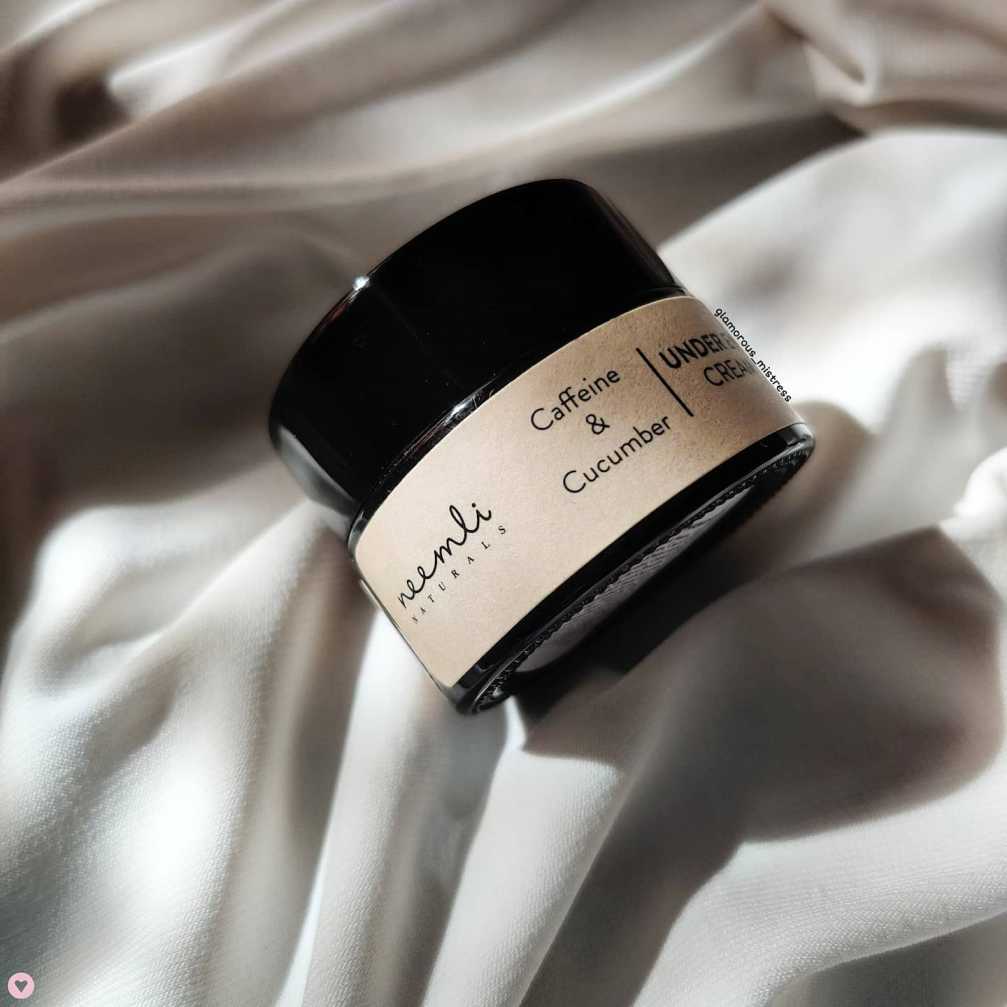 This eye cream is based on a purely natural and plant-based formulation that effectively works on the target areas by reducing fine lines and dark circles. This cream is enriched with caffeine which effectively improves blood circulation, reducing dark circles. 
The cucumber seed oil gives the skin freshness and keeps it moistened. This cream is a perfect blend of other useful ingredients like shea butter and almond oils that help eliminate aging lines, wrinkles, and dark circles, making the eyes look bright and healthy. 
This eye cream is made of complete plant-based, organic, food-grade ingredients. It is free from chemicals, animal products, synthetic materials, and artificial fragrances. This is also committed to maintaining the eco-friendly process and packaging, contributing to plastic-free, zero-waste initiatives.
Precious Brightening Under Eye Cream by Lotus Organics
This is an eye cream provided by Lotus organics which is a renowned name in beauty care products. This eye cream contains organic white peony extracts that nourish the skin areas around the eyes and removes eye fatigue. 
The natural ingredients keep the skin moistened, reduce dark circles, and address pigmentation problems. This under-eye cream is specially made with a chemical-free, preservative-free, 100% vegan formulation that is certified for eco-friendly initiatives. 
Its natural components make it skin-friendly and suitable for sensitive skin types for everyday use in all seasons. The brand uses recyclable packaging like cardboard boxes, glass and metal containers, recyclable plastics, and aluminum tubes.
Related: 10 Best Plastic Free Perfumes
Intensive Eye Cream by Forest Essentials
This eye cream is specially formulated with plant-based natural ingredients to take care of the delicate skin in the eye area. It contains extracts of papaya and potato starch that help reduce dark spots and dehydrated lines around the eyes and the Anise keeps the eye area bright, clear, and healthy.
It is free from any hazardous chemicals or parabens. It is a good alternative to a plastic-free eye cream that helps protect your health as well as the environment. The company also promotes eco-friendly packaging to avoid plastic pollution.
Related: Why You Should Switch to Plastic Free Skincare?
Rufolia Eye Cream (TAE)
Rufolia Periorbital Eyemulsion is an under-eye cream made with ayurvedic herbs like manjistha, kamala, and others that enhance depigmentation. 
It also contains Niacinamide and hyaluronic acid that makes the skin look brighter and smoother. The natural components keep the sensitive under-eye skin moistened and soft. 
This eye cream is free from parabens, sulfates, or artificial fragrances and works effectively for all types of skin. 
Radiance Eye Gel (YEOUTH)
Radiance Eye Gel is formulated with arnica oil which is a herbal medicine with powerful anti-inflammatory properties to help reduce swelling, and puffiness of eyes. The eye gel is effective at preventing the formation of fine lines and wrinkles. The combination of marine collagen and natural fruit extracts will keep the delicate eye area nourished.
Conclusion
The beauty-conscious habits of men and women have made beauty care products more demanding that also take care of personal health. Eye creams have to meet the essential requirements of softening and moistening your skin while reducing dark spots and puffiness. 
The new formulations of eye creams contain plant-based ingredients that serve the purpose of removing pigmentation, dark circles, and aging lines around the eyes. 
The wide application of these creams will help reduce plastic waste generation and promote an eco-friendly lifestyle.
—
Browse the I'm Plastic Free platform to discover plastic pollution solutions.