Perfumes are an essential part of the daily beauty care routine. The fragrance of perfumes is expected to give us a refreshing feeling, but it should not contain harmful components that might affect the skin and health. 
In recent times, various kinds of research have revealed that the fragrances in many perfumes are contributed by synthetic ingredients and chemicals that can harm both a person and the environment. Many popular perfumes contain ingredients responsible for increasing carbon footprints on the earth, affecting the natural habitats of numerous species. 
Moreover, the discarded perfume bottles and packets contain plastic components that are not biodegradable. They only add up to the waste accumulation on land and water bodies, polluting the environment. It is essential to take some conscious actions to ensure that our perfumes should not adversely affect our environment. 
Today, people are becoming more concerned about their health and the environment, so zero-waste and eco-friendly body care products like perfumes are in great demand. Manufacturers also offer products that contribute zero waste, are free from toxic effects, and support a healthy lifestyle.
There are certain parameters that we should look for when choosing zero-waste perfumes. These are as follows:
Organic Ingredients:

Made with ingredients grown without using toxic pesticides and herbicides that contain chemicals harmful to the environment.

Natural Ingredients:

Perfumes must contain natural and plant-based ingredients that are safe for health and completely biodegradable.

Palm Oil Free:

Palm oils are cultivated extensively by destroying forests, so perfumes using palm oil are not considered ethical as it causes ecosystem destruction.

Cruelty-free:

Perfume brands that carry out testing on animals need to be discarded.

Eco-friendly packaging:

The packaging of perfumes should use biodegradable or recyclable materials to avoid plastic pollution.
Plastic Free Perfumes: Our Ultimate List
The plastic-free perfumes have all the qualities to give you a natural and refreshing fragrance while protecting you from the harmful effects of plastics and other chemical components. Perfumes containing natural and organic ingredients packaged in compostable, eco-friendly containers are good alternatives to conventional products. We are providing details of tent best plastic-free, zero-waste perfume brands that are most suitable for people looking for sustainable solutions.
The 7 virtues (Canada) 
This famous non-toxic perfume brand is certified for providing cruelty-free, vegan products using natural ingredients. The perfume uses plant-based natural fragrances sourced from selected places around the world. 
For example, its grapefruit lime perfume contains grapefruit essential oils from Israel and lime and basil essential oils from Iran. This perfume is free of parabens, phthalates, sulfates, synthetic colors, UV inhibitors, and palm oil. It contains hypoallergenic organic sugar-cane alcohol blended with a natural scent that also has aromatherapy benefits.
Related: Things You Need To Know About Eco-Friendly Jewelry
Fat and the Moon (USA)
The brand consciously chooses raw materials and processes that are completely plant-based, organic, and eco-friendly. Each ingredient of this product is cultivated ethically and organically. The brand is committed to establishing its products as ethical and sustainable. 
The product uses natural fragrances and coconut oil, avoiding using palm oil. Each product from fat and the moon contributes to the beauty routine of individuals with vital energy obtained from herbs and other botanicals.
Heretic Perfume
This brand is a pioneer in the non-toxic perfume category that works extensively with non-synthetic and plant-based ingredients. This brand offers some unique fragrances obtained from research on ancient traditions and therapeutic properties of natural extracts. They want users to explore unconventional natural fragrances derived from plants and flowers. The perfume bottles are supplied in recyclable containers with cardboard packaging. 
Plant makeup
The organic nontoxic perfume from plant makeup uses natural and plant-based ingredients to produce perfumes through a cruelty-free process. The plant and botanical extracts are carefully combined with flowers to create beautiful fragrances. The product is in reusable glass bottles with labels made of compostable materials.
For a strange woman (Kannas City, Missouri)
This brand manufactures products through ethical, organic, and environmentally friendly processes. All perfumes are free from alcohol, palm oil, phthalates, parabens, and synthetic ingredients. They offer some unique fragrances obtained from plant and flower extracts. They contribute towards reducing plastic consumption by compostable and recyclable packaging for their products as much as possible.
Defineme (California, USA)
It offers a range of beautiful fragrances by incorporating plant-based essential oils and fruit oils in its perfumes. The chemical-free and vegan products are free of palm oil, phthalates, parabens, petroleum, and formaldehyde. 
The non-toxic, zero-waste perfume is made via ethical manufacturing practices and sourcing that adheres to eco-friendly standards. The perfume is delivered in recyclable or reusable packaging that combines glass and metal, along with labels made with compostable paper and printed with plant-based inks. 
Rainwater Botanicals
This is a renowned brand in the skincare industry and has been serving customers with chemical-free, non-toxic products for several years. Users widely acknowledge its plastic-free, eco-friendly perfumes due to their natural fragrances and skin-friendly qualities. 
It does not contain synthetic ingredients and uses jojoba oil to provide natural essence. They only use organic ingredients sourced from local ethical suppliers. The perfume is available in durable glass bottles, making it eco-friendly and sustainable.
White vetiver by Abel (New Zealand)
This brand provides elegant, unisex perfumes without any negative impact. Every ingredient in this fancy perfume is sourced from the plant. It includes only essential oils, plant extracts, and natural fragrances from organic sources. The perfumes contain 100% natural ingredients that create unique and intoxicating scents that give a refreshing feeling. The perfume is free of chemicals and stored in recyclable packaging.
IME organics solid perfume (Australia)
IME is a certified natural perfume brand providing solid perfumes in nine different fragrances obtained from natural and organic ingredients. IME solid perfumes contain shea Butter, organic candelilla wax, jojoba oil, avocado oil, and many natural botanical extracts.
Hanami by Phlur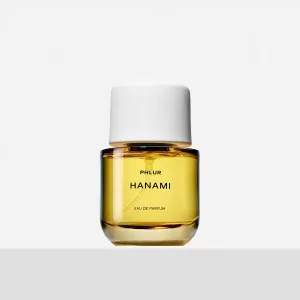 Hanami has a subtle floral scent attributed to sustainably sourced ingredients. It is hypoallergenic and is free from parabens, phthalates, sulfates, and other toxic chemicals. This zero-waste perfume is available in an opaque bottle made with recycled glass and packed boxes made with recycled cardboard that successfully helps deal with the plastic pollution problem.
Conclusion
The eco-friendly, plastic-free, and zero-waste perfumes contain natural ingredients, follow ethical manufacturing processes, and use sustainable packaging to reduce overall waste contributions to the environment. 
Most natural perfumes contain natural aromatic components with emotional and physical healing properties such as calming, relaxing, and energy-enhancing. 
Plastic-free perfumes don't have synthetic ingredients that can cause health issues. Eco-friendly perfume containers use recyclable materials that help keep our environment free from plastic pollution. 
—
Browse the I'm Plastic Free platform to discover plastic pollution solutions.