In a world almost entirely wrapped in plastic, avoiding it in regular usage is becoming hard. Even the most sustainability-conscious individual will agree that living a plastic-free life is increasingly complex nowadays. But that does not mean to stop trying and letting things be how they are.
Evidently, plastic is hazardous in many ways; it takes hundreds of years to decompose and is a considerable risk for wildlife and our ecosystem. Regarding products and toys for kids, almost 90% are made of plastic. Moreover, the concern is that nearly 26.8 million toys are thrown away yearly. Considering this prominent figure, it is a serious point to be noted for all parents who want to live a sustainable, eco-friendly life by cutting down on plastic usage.
Fortunately, due to the increased awareness of making the environment eco-friendly, several companies are now producing sustainable toys for your little ones. Therefore, the best way to reduce plastic in your home is to start bringing toys made of wood, cotton, or rubber or use sustainable arts & craft items.
Wooden Toys
Wooden toys have a more significant edge compared to plastic toys. This is because they are safer, healthier, durable, timeless, and can last forever. Some studies have also shown that wooden toys better impact a child's cognitive development.
Here are some excellent wooden toys ideas that your children will love to play with:
Acrobatic Wooden Stacking Set (Age 3+)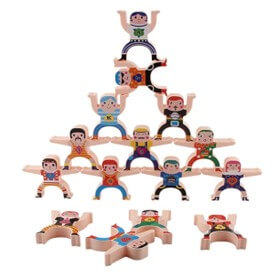 You can buy wooden play sets for your adorable ones to engage in healthy, playful activities. These sets are usually handcrafted and can be used in homes, classrooms, etc. Moreover, they look adorable and vibrant, attracting the kids and engaging them in creative activities.
Another advantage of wooden toys is that they can be easily washed and cleaned. Hence, there is no fear of getting them dirty or damaged.
Pretend Play Contemporary Dollhouse Set (Age 3+)
Dollhouses are always in trend, so why not get a doll house for your lovely toddlers that will last you forever? The perk of having such contemporary-looking dollhouses is that they look beautiful and aesthetic even as a decor item. So, apart from your little girls enjoying a safe and healthy doll house set, you can keep it forever as an artifact.
Additionally, they are made from sustainably harvested rubber wood from trees. They have no synthetic colors, toxic dyes, or lead material. Hence, it can be an exceptional gift choice as well.
Cotton Made Toys
Cotton toys are another great option for making a sustainable home space. Kids love to have cute, cuddly toys to cuddle with. The soft plush toys are shown to make kids comfortable and relaxed. Other than being safe, organic, and eco-friendly, they can help develop your child's social and sensory skills.
Here is a lovely idea for a cute soft plush toy that will become your child's best friend:
Dinosaur Stuffed Toy (Age 0+)
These adorable organic cotton-made dinosaurs are very safe and have hypoallergenic fiber. They can be easily washed, are long-lasting, and remain hazard free as they are made from eco-friendly material. Also, such cuddly toys are great to keep your child engaged in safer hobbies. They can snuggle, play and even learn to groom themselves with their wild and lovely creativity.
Likewise, you can find many more plush toys made from safe and organic cotton. Finally, for creative learning, you can buy stuffed animals, fruits, and vegetables; these help the children distinguish colors and learn names by remaining eco-friendly.
Related: Do eco-friendly alternatives to plastic toys exist?
Rubber Toys
Toys made from natural rubber are biodegradable, non-toxic, and harmless to the environment. That is why rubber toys can also be a good replacement option for plastic toys. Especially for the kids who are in the phase where they love to put any toy directly in their mouth, natural rubber toys become helpful for them.
Here is a great rubber toy option for the little ones:
Natural Rubber Baby Blocks (Age 6+ Months)
These cute colorful baby blocks, made from natural rubber, are durable and lightweight. Your baby can play with them, chew them or even throw them around the house. They are washable, and the different shapes help build children's motor skills. These toys are great for teething kids, as they help reduce the pain and keep the baby busy, so they do not get irritated.
Arts & Crafts Items
Almost all kids have a weak nerve for art and craft items. They are not only very beneficial and healthy if adopted as a hobby, but they can also boost your kids' creativity skills. Unfortunately, many art toys and items on the market are plastic, and the colors used in them are also very toxic and harmful to kids' health.
Here is a unique and safe example for your crafts-loving kids:
Original Beeswax Crayons 12pk (Age 2+)
These cute crayons are made from naturally sourced beeswax and have food-grade pigments to make them safe for kids' usage. There are no toxic waxes or pigments in them. Their size is also bigger than regular crayons, making them easier for tiny hands to hold.
Besides these, you can also find many other eco-friendly sustainable paints, colors, clays, and so much more. They are safe, free of toxins, and eco-friendly. Hence such products bring no harm to anyone.
Conclusion
On the whole, choosing a healthier and safer lifestyle for you and your kids will make your life easy. It can be a little hard to conquer, but gradually you can start by reducing small plastic items or kids' toys and replacing them with sustainable products. This act can also teach your kids about the eco-friendly lifestyle and benefits of sustainable toys, and you can make them aware of the harmful impacts of plastic usage. This way, your kids will learn to appreciate sustainable toys. Then, all you can do is take a step towards making a plastic-free lifestyle. Remember, you can always donate these sustainable toys once they are not used.
—
Browse the I'm Plastic Free directory to discover safe & sustainable products for babies and kids.