The topic of a circular economy confused me for ages. Maybe because a true circular economy is hard to find and many claim to have a circular economy within their business, however part of the circle is a recycling process and that is not circular. The Ellen Mac Arthur Foundation an international organisation that focuses on circular economies defines a circular economy as: "An economy that is restorative and regenerative by design." In a circular economy economic activity builds and rebuilds overall system health. The concept recognises the importance of the economy needing to work effectively at all scales – for big and small businesses, for organisations and individuals, globally and locally. It is based on three principles: Design out waste and pollution, keep products and materials in use and regenerate natural systems.' Armed with a clear definition here are two great info pictures sourced from Circular Economy Victoria that provide a visual for the mechanics of a Circular Economy. One provides a great example if you have an eco-business.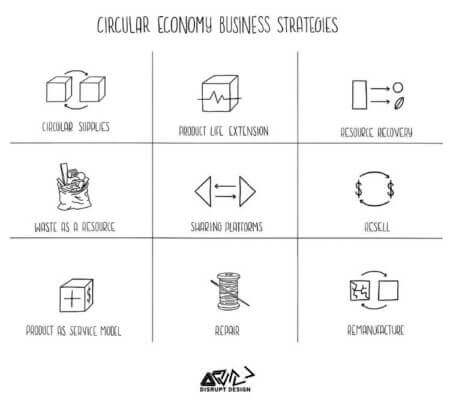 A great example of a circular economy is the old fashioned milkman. Bring back the milkman I say.
Funnily enough many small conscious dairies are now bringing back the bottle. One example is Schulz Dairy. They have created a circular economy with some of their retailers and business clients.
There is even a company that has started a 'new age' milkman service which will deliver your milk and other household staples, especially those great for breakfast, called My Milkman. My Milkman even delivers milk for millennials , almond milk in glass bottles. Not only do they deliver milk in glass bottles they also deliver pantry staples such as coffee in reusable containers. They collect the used containers on the next household delivery and the circular system goes around.
The milkman is rather cathartic, don't you think? Food delivered to your door is quite useful, at a time when our way of living has changed.
——
Anita La Forgia
Levata
Life learner, multipotentialite, lifestyle elevator and creator
A treechanger who cooks to elevate life. Anita is passionate foodie using local, quality and seasonal ingredients. Living in the Macedon Ranges in Victoria she frequents the local farmers markets each week, with her beloved luggy. Her grandparents instilled the life skills of sustainable living, before sustainable living was a buzz word. She grew up in a restaurant and completing her International degree at César Ritz colleges in Switzerland, the heart land of hospitality, food and service.
Browse our directory of plastic pollution solutions.