Soap dispensers, including foam dispensers, are a neat and convenient way to use liquid soaps. Dispensers come in various shapes and styles that can be sealed or refilled with refillable body wash, shampoo, or conditioner. Many empty plastic dispenser bottles are single-use and thrown off once empty, adding to your (plastic) waste. 
The plastic components in dispenser bottles are not biodegradable or recyclable, so they accumulate in landfills and water bodies, causing severe damage to the environment. We, as eco-conscious individuals, must do our bit to avoid plastic in our household items and keep our environment cleaner. 
We can avoid using single-use plastic dispensers and switch to other alternatives to protect ourselves from the adverse impact of plastics. Sustainable and eco-friendly containers in your home would reduce waste and can help improve the environmental conditions for future generations. 
People are becoming more conscious of the adverse impact of plastic and looking for eco-friendly solutions to reduce plastic in their daily lives. In this article, we will discuss some of the best plastic-free soap dispensers that offer a concrete circular solution to the plastic problem. 
These dispensers are easy to use and refill, minimize soap spills, don't leave the residue of a solid soap bar, and are designed to add a decorative and functional finishing touch to any kitchen or bathroom.
Plastic Free Soap Dispensers 
By now there are quite a few convenient, economical, and planet-friendly plastic-free soap dispensers available on the market. They can be useful to modernize your bathroom, cut down on soap bar costs, and adopt an environment-friendly lifestyle.
Budget Tip: if you have already a reusable soap dispenser, you can just buy the refills, as all the options we list below are closed-loop and offer refillable hand wash products in tablet or powder form. All you need is to add water.  
We will explore here some of the most sustainable options we came across in different countries.
This post contains affiliate links, which means we may receive a small commission, at no cost to you, if you make a purchase through a link. This helps us continue the hard work we put into researching products and solutions.
1. Tirtyl Foaming Hand Soap Dispenser – USA / Australia 
Tirtyl have created a circular zero-waste cleaning product range that is vegan, cruelty-free, and 100% carbon neutral. It consists of refillable glass bottles and dissolvable tablets that just need tap water to become fully functional hand wash and multipurpose cleaning products.
Their foaming hand soap dispenser kit includes one signature weighted glass foam dispenser and 4x hand soap tablets, each making 8 fl oz of foaming hand soap. The tablets are non-toxic and safe for sensitive skin and contain no parabens or phthalates. All ingredients are listed on the EPA Safer Chemical Ingredients List. The refills are also available in value packs of 12 tablets and should last for at least half a year in your household.
Tirtyl are an official partner of Plastic Bank, one of the world's leading plastic clean-up organizations with collection infrastructure in developing communities worldwide. With every product sold, they collect plastic waste by passing proceeds from your purchases to this organization. These proceeds are paid to locals in developing communities as wages to collect plastic, often on beaches and rivers or in areas near the ocean, so-called ocean-bound plastic.
Check the latest price on:
2. Life Without Plastic Stainless Steel Soap Pump Lid for Regular Mason Jars – USA / Canada
Life Without Plastic is one of the pioneers of the plastic-free movement and was launched in Canada back in 2006. A truly circular and zero-waste soap dispenser is to refill mason jars you already have collected from pasta sauces, olives, pickles, etc., and just buy this high-quality stainless steel soap pump lid that fits regular mouth glass jar with a diameter of around 70mm / 2.75″.
This way you avoid buying single-use plastic bottles and you can also refill the mason jars at bulk stores. Tip: this lid is not leakproof, so it's not meant to be used for transportation. Use the regular airtight mason jar lid for transportation and change it to this stainless steel soap pump when it's in an upright position.
Materials: the pump and the lid are made of 18-8 (304) stainless steel, while the tube and the interior connector piece are made of BPA-free polypropylene and polyethylene.
Check the latest price on Life Without Plastic
Related: Plastic-free Laundry Detergent: 10 Eco-friendly Options
3. Kilner Liquid Soap Dispenser Jar – USA / UK / Australia
Kilner® is an iconic brand of the plastic-free / zero-waste movement, as this business, which was first established by John Kilner in 1842 in England, is the inventor of the original Kilner® Jar. Over 180 years later, this jar type is still very popular thanks to its distinctive pressure seal and iconic design. It is used in households all over the world to successfully preserve and pickle their fruit and vegetables.
More recently, the 500ml / 19 oz jar has been given another use: as a liquid soap glass dispenser for your kitchen or bathroom. The liquid soap is dispensed easily with the durable and rust-resistant 18/10 stainless steel spring pump mechanism. This plastic-free jar is perfect for homemade liquid castille soaps and DIY cleaning products.
Check the latest price on:
4. Eddi Soap Dispenser – USA
Eddi aims to cut down on household plastics by redesigning soap dispensers. This brand has created an entirely plastic-free hand washing system consisting of a stainless steel dispenser and refilling facilities. 
Some dispenser bottles are made with lightweight aluminum that can be easily recycled. The brand also improves the aesthetics of its products with these recyclable materials that attract customers with their looks and designs.
5. Grove Co. Glass Dish Soap Dispenser – USA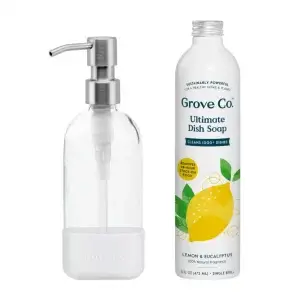 This liquid dish soap dispenser has been designed to bring sophistication and sustainability to your kitchen accessories. This soap dispenser is meant for a reusable purpose and can be refilled each time, eliminating the need to purchase new plastic containers. 
It is made of glass, an eco-friendly alternative to plastic, with a stable square silicone base, and does not release any chemicals that can harm human health. It is a premium product that aims to create a healthy atmosphere at home and reduce plastic waste when doing the dishes. One easy way to reduce plastic around the house is by refilling this dispenser with liquid soap refills instead of buying new plastic soap bottles each time. 
The starter kit includes a refill aluminum bottle and is available in 5 different scents.
6. Grove Co. Reusable Foaming Soap Dispenser – USA

This plastic-free soap dispenser is designed sustainably and powerfully for a healthy home and environment. The Grove Co. reusable soap dispensers are durable, and made with partially recycled, lead-free glass with brushed stainless steel pumps. These durable glass dispensers can successfully replace single-use plastic soap bottles and help keep plastic waste out of your home and the landfills. They are packaged in recycled and recyclable Kraft paper boxes to avoid creating plastic waste on disposal. 
7. Grove Co. Reusable Frosted Amber Glass Hand Soap Dispenser – USA
This reusable frosted amber glass hand soap dispenser with a metal pump is perfect for anyone looking to add style and sophistication to their bathroom, kitchen, or office and maintain an eco-friendly lifestyle. This glass dispenser is durable and can be reused with refills as many times as required. It reduces plastic consumption in daily life and helps make the environment safer and cleaner with plastic-free products. 
Related: Plastic Free Dish Soap: The 7 Best Eco-Friendly Brands
8. Resparkle Foaming Hand Wash Kit – Australia
Resparkle is a purpose-led family business that started its journey in 2013 at a farmers market in the Mornington Peninsula, Victoria, Australia. When Pearl discovered that cleaning products were made of 90% water and the rest harsh chemicals, she questioned why we're transporting liters of water in so much plastic across the country when we are fortunate to have clean water from our taps. A few years and pivots later, hoping to turn the tide on plastic, the refillable cleaning products & foaming handwash range was launched, as a powder that only needs water to be activated.
The soap dispensers come in glass bottles with silicone sleeves to make them more durable. The pumps/nozzles are made of stainless steel with some plastic in the pump interior and tube. (We use this product ourselves, and we can 100% confirm that it is high-quality and long-lasting compared to other dispensers on the market that fail after short-term use).
The handwash itself comes in compostable sachets made from plants and, therefore, truly zero waste. These plastic free hand soap refill sachets are made in Australia, in their Melbourne warehouse, with strictly only natural ingredients that are gentle and non-irritating even on sensitive skin. All products are free of synthetic fragrances, harsh chemicals, dyes, and enzymes, but do contain a small number of essential oils, and all ingredients are listed on their website.
See the full range from Resparkle Australia
9. Raindrop Plastic-free Foaming Hand Soap – UK
Raindrop is a UK-based company that has created a vegan, cruelty-free, and non-toxic refillable cleaning products range. Furthermore, to enhance their impact on plastic pollution, they have partnered with Cleanhub to finance the collection of plastic waste before it can enter our ecosystem.
Their plastic-free foaming hand soap starter kit includes two reusable foaming soap dispensers, which are meant to be used for life. They are made from toughened, smoked glass with silicone non-slip bases, available in 7 different colors and durable pumps. The bottle size is 300ml each. The set also includes 8x 300ml bottles worth of soap refills in tablet form to say goodbye to single-use plastic soap dispensers and pumps forever. Furthermore, as the tablets are so light, they have much lower CO2 emissions compared with standard cleaning products full of water in disposable plastic bottles.
Check the latest price on Raindrop.
Conclusion
The great thing about using plastic-free soap dispensers in your bathroom, kitchen, or other areas is that you move further towards ensuring a healthy and eco-friendly life. Using a glass or stainless steel soap dispenser eliminates plastic use and meets the nontoxic, sustainable, and cruelty-free standards in your lifestyle. 
Instead of throwing away your empty soap containers, you can refill this eco-friendly dispenser with liquid soap to reduce plastic waste. The glass dispensers are a clean and modern way to display your liquid soap or lotion and add a trendy update to your bathroom or kitchen. Going for a plastic-free soap dispenser can be an effective choice if you want to make an effective transition to natural, eco-friendly, and sustainable household products. 
—
Discover more articles to help you achieve a plastic-free bathroom.
Browse the I'm Plastic Free platform to discover plastic pollution solutions.