The shampoo is a popular beauty care product as people are quite concerned about taking care of their hair. Branded shampoos are mostly preferred as they provide shiny and healthy hair while taking care of other hair-related issues. As people become more conscious about their health and well-being, the demand for plastic-free shampoo brands has skyrocketed in recent years.
Plastic is quite harmful to the environment by generating wastes that are not recyclable or biodegradable. Traditional shampoo brands used to contain some trace of plastic microbeads or microplastics, or contain harmful chemicals like SLS that are not very healthy for your hair on prolonged use and plastic shampoo containers also end up polluting landfills and water streams. So there is a tendency to switch to organic materials-based shampoo and hair care products that have no harmful effects, are microplastic free, and are zero-waste. 
Plastic-Free Shampoo Brands
The best plastic-free shampoos and conditioners are vegan, cruelty-free, and made of natural byproducts avoiding harmful chemicals, which help you protect yourself from the effect of plastic in your daily personal care routine. Here is a list of plastic-free shampoo brands that keep your hair healthy, nourished, and free from the effect of harmful chemicals.
This post contains affiliate links, which means we may receive a small commission, at no cost to you, if you make a purchase through a link. This helps us continue the hard work we put into researching products and solutions.
1. Ethique Solid Shampoo Bar – USA / Australia
Ethique has been the pioneer in developing zero-waste shampoo and conditioners. Brianne, the founder, started Ethique back in 2012 mixing formulas up in her kitchen in New Zealand. She was frustrated by the abhorrent amount of waste created by the cosmetics industry, and in particular, the amount of plastic and waste created by our bathroom essentials. At that time, "plastic-free" wasn't a big topic in the media. She figured out that up to 95% of our bottle of conditioner is made up of water – which is just ridiculous considering we have water in our bathroom! So, after several attempts, Ethique was born! 
It is a certified brand making shampoo and conditioners free from animal byproducts and containing pure vegetables and natural extracts. These products are more concentrated than conventional shampoo and conditioners, so it is also economical to use and give better results in small quantities. Various products are suitable for different types of hair and care for different hair-related problems. All of them are vegan and zero-waste plastic-free products. The products are also available in bars, wrapped in recyclable paper, which is convenient to carry and contributes to zero-waste solutions.
Shop the Ethique product range:
Related: What is Plastic Doing in My Shampoo?
2. Everist Waterless Concentrate Shampoo – Canada / USA
This Canadian brand is famous for its vegetable-based shampoo and other body care products that are certified and free from dyes, preservatives, silicones, synthetic components, or artificial fragrances. The shampoo and conditioners are three times more concentrated and fit into compact metal containers or tubes for easy handling and use. The ingredients include aloe vera, alma extract, and essential oils that are quite helpful for nourishing hair and provide nutrients, vitamins, and minerals for natural growth and shine.
3. Etee Shampoo and Conditioner Bars – Canada / USA
This brand is based in Canada and it is committed to providing natural and plastic-free personal care products with a wide range of shampoos and conditioners. These are available in bar form with duo combo packs as well as single packing. They even use 100% plastic-free shipping materials. You can feel the genuine commitment of this brand from their website. They're all about one thing: "developing genuine solutions to plastic pollution, so that you can live more simply, sustainably, and in greater harmony with our planet". These are exactly the values behind I'm Plastic Free. 
The hair care products are rich in essential oils and plant-based ingredients, providing moisture and nutrients to the scalp without using chemicals or preservatives.
4. EcoRoots Bars & Dry Shampoo – USA
This brand focuses on providing all sorts of ethically made products in the USA that are vegan, cruelty-free and made up of natural components with no silicones, no phthalates & no parabens. The ingredients include coconut oil, cocoa butter, and various plant oils that nourish the hair and scalp for shine and strength. The products are available in unisex, compact shampoo and conditioner bars that weigh 2.25 oz amd last for a long time, around 50+ washes. This shampoo's natural and organic ingredients and conditioners keep the hair soft and healthy. The packaging of the solid bars is made of recyclable and biodegradable materials that help you maintain a zero waste lifestyle. 
They also offer a zero waste dry shampoo that is vegan, aluminum-free, fragrance-free, and suitable for all hair types and colors and it is packaged in recyclable/reusable glass jars with metal lids.
5. By Humankind Shampoo and Conditioner Bars – USA
By Humankind was founded in 2017 and is headquartered in New York. They have developed shampoo and conditioner bars with no plastic, available in a variety of natural fragrances like citrus lavender, lemongrass, and peppermint.
For those who like their shampoo in liquid form, they also offer a single-use plastic-free, vitamin-rich liquid shampoo which uses silicone-free, sulfate-free, and natural ingredients to take care of your hair by enriching it with nutrients. It preserves your hair's natural oils, moistens the scalp, and reduces hair breakage. This shampoo is suitable for all hair types and maintains pH levels by retaining glycerin. It's formulated with moringa and argan oil to leave hair feeling fuller & healthier and it's available in two essential oil scents: grapefruit or lavender.
The plastic-free liquid shampoo products are available in recyclable aluminum bottles to reduce waste on disposal, as the pump is reusable and can be transferred to the next refill bottle. Aluminum (unlike plastic) is widely recycled across the US. Each refill eliminates 1.31oz of single-use plastic waste.
6. HiBAR Solid Shampoo and Conditioner – USA / Australia 
HiBar was founded after four friends realized they were all thinking the same thing: plastic sucks. After visiting a plastic-strewn beach, they wanted to eliminate plastic from their own lives, but one thing they had a hard time with, was hair care as they couldn't find salon-quality plastic-free shampoos or conditioner despite in the USA, half a billion shampoos and conditioner bottles get tossed every year. It took them three of formulation to finally launch HiBAR, whose values are salon-quality performance, natural ingredients, and, of course, beautiful plastic-free packaging that can be composted or easily recycled. They even ship their orders 100% plastic-free. So, no bubble wrap, and no plastic tape either.
They didn't want their bars to look like soap, because they are not soap and because they wanted them to be visually striking. So they found inspiration for the unique shape of their solid hair care in nature, on the North Shore of Lake Superior in Minnesota where the company is based. They found some smooth, very ergonomic river rocks and realized that they held the answer to the shape they were looking for.
Their products include no soaps, sulfates, phthalates, silicones, or parabens. And absolutely no cruelty. Nothing but safe, quality, sustainable ingredients that also work.
Shop the HiBAR range on:
7. Fat and The Moon Dry Shampoo – USA
Fat and the Moon is a palm oil free shampoo and other cosmetics brand handmade by herbalists in the USA (California) from ethically and safely sourced ingredients. The dry shampoo contains only four (mainly organic) ingredients: cocoa powder, arrowroot powder, kaolin clay, lavender essential oil. The powder works to absorb oils on your scalp and add body before your next hair wash. It's aluminum free, toxin free, and can be used on all hair colors, even blonde as the cocoa won't make blondes brown! It only leaves a delicious smell!
Shop Fat and The Moon on the EarthHero website.
8. Le Lapin Refillable Haircare Products – Australia 
Le Lapin creates luxurious vegan, refillable cosmetic products made in Australia for both men and women looking for all-natural formulations that compromise neither on quality nor the earth. All of their products come in aluminum bottles that can be returned for free to be cleaned, sanitized, and refilled, creating a true closed-loop system typical of the circular economy.
All products are certified vegan by Vegan Australia and 5% of gross sales are donated to Bush Heritage Australia.
Their natural hair care range is suitable for all hair types (even colored, chemically treated hair and curly hair) and it's called Hare. They have created a non-foaming 2-in-1 shampoo & conditioner that softens, restores shine, and keeps hair hydrated, whilst promoting hair growth. It removes scalp build-up, balances oil production, and moisturizes without stripping or drying, restoring hair and scalp to a healthy pH level. This product has won the 2022 Eco Choice Award and the Organic Beauty Award.
Recycling program: you can return any of the primary packaging (bottles, tubs, jars), as well as dispensers (pumps, sprayers, droppers). If it came from Le Lapin, they take it back!
Last but not least, they donate 5% of gross sales to Bush Heritage Australia.
9. Shampoo With a Purpose Bar – Australia
Liz has been in the personal care industry in Australia for nearly 40 years, running Clover Fields; Australia's oldest family-owned soap mill. They were the first Australian company to make non-tallow soap, and the first business to encourage the packaging free display of naked soap bars, having a minimal-waste brand since 1983. Later in the years, together with Geneva they developed Shampoo With a Purpose.
They found a unique manufacturing process (triple milling commercial machinery) that made their bars worth up to 6 bottles of shampoo and conditioner and ensured that the bars hold well in the shower without melting easily in hot water.
Their naturally lathering bars are vegan, have no harsh chemicals, no added palm oil products, sulphates or animal by-products,  and they are pH-balanced for use on scalp. They are available for all hair types: normal or combination hair (The OG), dry hair (Dry or Damaged), limp hair (Volume), oily hair (Volume or The OG),  curly hair (Volume), brittle hair (Dry or Damaged or Colour Treated), coloured, bleached or chemically treated hair (Colour Treated).
All of their products are solid shampoo AND conditioner bars in one, therefore saving you extra time and money you'd use to buy solid conditoner bars.  We also love that every box has been designed with hand-drawn pictures of their friends and family, and include education around the products, and their mission, which is to provide a simple and easy option to help reduce plastic consumption in the shower.
​Find the range on Amazon Australia
10. Viva La Body Solid Shampoo – Australia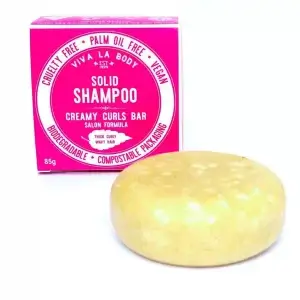 Viva La Body is a family business established in 1999 in Darwin, Northern Territory, Australia. They are a true zero waste personal care product business as they have no tins, no glass jars or bottles – all their product packaging can be composted when not needed any longer, making it a truly sustainable beauty brand that helps you reduce the use of household plastics.
They have developed revolutionary solid body care products that do not need a bottle or jar to work effectively, not just as plastic-free shampoo and conditioners but also for all other products you would need for face and body care, like their natural solid perfume, deodorant, cleanser, face-wash, water activated moisturizer etc.
All Viva La Body products are totally handmade, and shipped plastic free in biodegradable compostable packaging. All products are ethically manufactured with natural and sustainable ingredients, they are vegan, certified palm oil free by the Orangutan Alliance, and cruelty free. The solid hair care
Find the range on Biome Australia.
11. Battle Green Shampoo Bar in Tin – UK
This UK based brand is gradually becoming popular in the category of zero-waste, plastic-free personal care products. These small shampoo bars are quite convenient and are available in biodegradable, plastic-free packaging. The oil-based cleansing properties of this product keep the natural shine and strength of hair and ensure your scalp maintains the necessary moisture. Another feature is its natural fragrance from citrus, mint, and tea tree oils.
Find the range on Etsy.
12. Friendly Soap Shampoo Bar – UK / USA 

This is a UK award-winning body care brand for its environment-friendly products. All products are made in the UK with 100% natural ingredients through cold process manufacturing, ensuring zero waste. They don't contain animal byproducts and are free from parabens, palm oil, sulfates, and other chemicals. The main ingredients include catering, olive, coconut, lavender, and tea tree oils. The bars are boxed in recycled (and recyclable) cardboard packaging.
Find the range on:
Conclusion
People are becoming more health conscious and careful about selecting personal care products. With increased awareness about the importance of natural ingredients and eco-friendly products, consumers are looking for more plastic-free shampoo brands and other products that are also free of chemicals and synthetic components.
—
Brose our library of blog articles related to plastic-free beauty.
Browse our directory to find more eco friendly beauty & personal care brands.