Chewing gum is liked by kids as well as students, youngsters, sportspersons, and many others for its refreshing taste and variety of flavors. Some people use it to help keep your teeth clean while not being able to brush them. fight drowsiness, eliminate nause, or reduce heartburn. Others are just used to it and don't question neither why, nor what these gums are made of and if they are chewing plastic. 
Is Chewing Gum made of Plastic?
Researchers have found that conventional chewing gum contains certain elements that are also used in the manufacturing of plastic bottles, glue, and tiers. Gums mostly contain a gum base that includes plastic-based elements, like polyisobutylene (PIB), that's also used in the manufacture of inner tubes. This material is then mixed with other food grade plasticisers to make the gum mixture chewable.
Artificial sweeteners, flavors, and preservatives are mostly synthetic materials that have hazardous effects on health for prolonged use. Many people are not aware of the harmful effect of plastic-like components in chewing gum so it is time to highlight the importance of plastic free chewing gums as the safety of children matters the most. 
Is Chewing Gum Harmful for the Environment?
The short answer is yes, gum pollution is a major issue for our ecosystem. As mentioned earlier, most gums on the market are not biodegradable, but made with synthetic materials and plasticisers, which means they do not compost in any environment, but degrade over the years releasing microplastics. On top of this, chewing gum is the world's second most common form of litter after cigarette butts, so it sticks on our streets or enter our waterways and is ingested by wildlife contributing to biodiversity loss.
The gum industry is huge, the global market volume is US $25 billion / year and it's expected to grow to $31 billion by 2027, according to the imarc group market research report. Only two large multinationals hold 60% of the global gum market (Wikipedia). Yearly, 1.74 trillion sticks of chewing gum are produced, considering the average weight of a gum is 1.5 grams, this corresponds to 2.6 milllion tonnes of chewing gum produced each year, mostly discarded in the environment. You can imagine the scale of the issue here. Luckily, things are changing and innovative sustainable gum solutions are now available on the market.
Why you Should Switch to Plastic-free Chewing Gums
A lot of research work has been going on in recent years about the possibility of some innovative formulation of chewing gums that are natural, healthy but at the same time tasty and liked by children. Many manufacturers have come up with new plastic-free chewing gums which are gradually gaining popularity among health-conscious people that do care also about the planet. We will discuss some special types of chewing gums that are good for kids and adults, and don't contribute to harmful effects on health and the environment.
This post contains affiliate links, which means we may receive a small commission, at no cost to you, if you make a purchase through a link. This helps us continue the hard work we put in researching products and solutions.
1. Honest Gum – Australia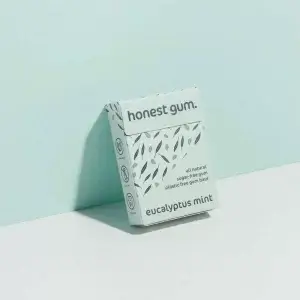 Honest Gum is a naturally made chewing gum using chicle, which is a sustainably harvested plant and contains natural sweetness and flavored ingredients. Honest Gum was launched in 2014 and was Australia's first natural chewing gum made without a synthetic gum base and sugar-free.  As a sustainable natural food product and award winner, it has the following benefits:
Honest gum is obtained from a natural source.

It has an amazing taste and provides freshness.

It doesn't contain added sweeteners.

It has no artificial color or flavors

It is free from artificial preservatives

It is available in compostable and recyclable cardboard boxes
Last but not least, you can throw your Honest Gum in the compost and it will decompose in approximately 12-15 months, depending on certain evironmental factors like temperature, moisture, light etc.
2. True Gum – Danemark
True Gum is different from conventional gum because it is a plastic-free product. It is made with sap from gum trees with all-natural flavors and sweetness. It uses xylitol which is a plant-based sweetener and has a much less calorific value than sugar. True gum is completely plant-based and does not contain any animal-derived ingredients. The advantages of true gum over conventional gum are as follows:
T

he gum base is made from chicle, which is derived from the sapodilla tree.

True gum is biodegradable and environment-friendly.

The taste of true gum is similar to peppermint chewing gum .

It doesn't contain artificial sweeteners

It is available in compostable and recyclable cardboard boxes
3. Chewsy – UK

Chewsy is the popular chewing gum in the UK as a plastic-free alternative to conventional chewing gum. It uses completely natural ingredients sourced from plants and is the best sugar-free chewing gum free from any harmful effects. The main advantages of this chewing gum are listed as follows:
It is made from natural sources with no plastic or synthetic components.

It doesn't contain artificial colors and flavors.

It is free from sugar and uses plant-based sweeteners like xylitol.

Chewsy is completely biodegradable.

It is available in compostable and recyclable cardboard boxes
4. Glee Gum – USA
Glee Gum is an American delicious, refreshing, natural gum that is free of artificial flavors, coloring, sweeteners, preservatives, and from synthetic plastics. About 30 years ago, a family travelled to Central America where they discovered chicle, which is a natural gum derived from the sapodilla tree in the rainforest and previuosly chewed by the Aztecs. It was after that trip that they launched their all-natural chewing gum version.
The potential benefits of glee gum are as follows:
Glee gum is natural and free from any synthetic ingredients.

The sweetness is achieved using plant-based xylitol.

It doesn't contain sugar or artificial sweeteners.

It doesn't contain artificial colors or flavors.

It is free from any genetically modified components.

It is made with a plastic-free gum base.

It is available in compostable and recyclable cardboard boxes or in compostable sachets.
Available from Amazon Australia.
Related: 9 Best Toothpaste Without Plastic and BPA
5. Oh My Gum – UK
This gum is a new addition to the plastic-free gum family made with natural ingredients in the UK. It has obtained recognition for sustainable food value and great taste. The advantages of this gum are mentioned as follows:
It is based on natural chicle which is a plant product, it is therefore vegan.

It uses plant-based sweetener. 

It is free from synthetic components.

It doesn't contain additives or preservatives.

The color and flavors are naturally obtained.

It is biodegradable and hence environment-friendly

It is available in compostable and recyclable cardboard boxes.
6. Chicza – USA

Chicza Organic Mayan Rainforest Chewing Gum is made traditionally with all organic ingredients. The various plus points of this gum are mentioned below.
It has an organic gum base made of 100% chicle.

It contains natural sweeteners and plant-based flavors.

It is most suitable for vegans.

It is biodegradable and doesn't contribute to pollution hazards.

It is available in compostable and recyclable cardboard boxes.
 7. Simply Gum – USA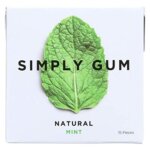 Simply Gum was founded in 2014 after Caron, the founder, discovered that regular chewing gum was made of a synthetic plastic base. She started making batches of gum in her apartment using a tree sap base (also called chicle) and sold the first products in stores throughout NYC. It's now an expanding business that is committed to good ingredients, delicious taste, and sustainable packaging.
Here are the main features of this natural, biodegradable chewing:
Available on Amazon Australia.
Conclusion
It has been observed that most chewing gum is not disposed of properly and is non-biodegradable, so removing this litter can be a costly and time-consuming process. Plastic-based products are not only harmful to the environment, but may also lead to health issues in the long run. 
Chewing gum is a popular product among kids and youngsters that they chew for a long time, so this should be plastic-free and natural as much as possible. 
Fortunately, many manufacturers have used their knowledge, expertise, and innovative capabilities to prepare chewing gums with natural ingredients. They have been successful in removing the effect of plastic and coming up with tasty chewing gum formulations that keep everyone safe and healthy.
__
Browse more blog articles that are related to plastic-free living.
Browse the I'm Plastic Free directory to discover plastic pollution solutions.