An eco-friendly lifestyle can be daunting. Finding information about products' environmental impact or how to find substitutes for them can be challenging. When choosing the best Toothpaste on the market, you'll need to consider many things.
Nowadays, people are more cautious when it comes to buying Toothpaste. The main reason is the damaging effects plastic can have on our health. Many kinds of Toothpaste have BPA (Bisphenol A) or phthalate, a chemical used to make certain plastics. It is harmful to the nervous system and has been linked to breast cancer, asthma, and ADHD in children. This article will tell you about 9 kinds of Toothpaste without plastic or BPA to fit your zero-waste lifestyle.
1. Etee's Zero Waste Chewpaste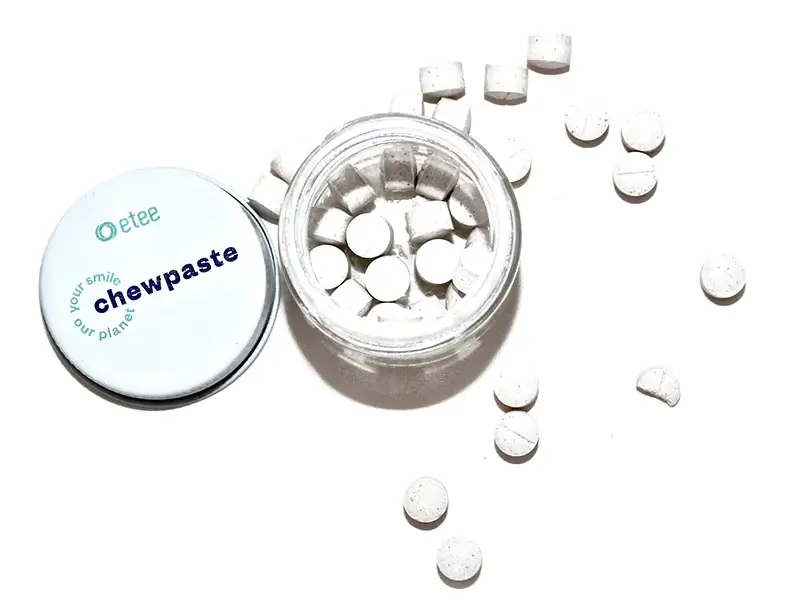 If you're looking for the best oral care product, etee Chewpaste Toothpaste is a great choice.
Etee is an eco-friendly toothpaste that comes in a reusable glass jar and can be recycled or reused. The product is vegan, cruelty-free, and made with Canadian glacial clay, kaolin clay, coconut oil powder, and peppermint oil.
The Company also creates its own in-house packaging-free Toothpaste in a minty vanilla flavor. They use renewable energy for their factory, which helps reduce our carbon footprint while we buy their products.
Related: Plastic Free Chewing Gum: Do They Exist?
2. Huppy Zero Waste Toothpaste Tablets
Huppy Toothpaste Tablets are a game-changer in the zero waste revolution. These tablets are crafted with only vegan-friendly ingredients, making them suitable for even the most sensitive teeth. These tablets are packed with ingredients that fight cavities and whiten teeth, sure to keep your mouth healthy. They come in peppermint, charcoal mint, and watermelon strawberry flavor. All packaging can be recycled or composted; labels are made with water-based inks. The Company uses ingredients like coconut oil, tea tree oil, and Xylitol sweetener—all of which have been proven safe for human consumption. These tablets come in an easy-to-store container perfect for traveling or taking your oral health on the go.
3. Butter Me Up's Toothpaste
Butter Me Up is a toothpaste alternative free of plastic, BPA, and other harmful ingredients. It's made with sea salt, baking soda, essential oils, and coconut oil to create a unique scent that is relaxing and energizing.
The Company's packaging includes glass containers with a recyclable lid and recycled paper. They use only cruelty-free and synthetic-free ingredients and those free of palm oil. This Toothpaste is made in small batches and tested for effectiveness before being sold to the public.
Related: 45 Catchy No Plastic Slogans
4. Battle Green Remineralizing Tooth Powder
When looking for the best Toothpaste without plastic and BPA, you'll want to consider Battle Green Remineralizing Tooth Powder.
This product is a zero-waste whitening toothpaste that contains bentonite clay, which helps to remove plaque from your mouth. It also includes sodium bicarbonate, xylitol, peppermint oil, pink Himalayan salt, sage, etc. These ingredients help battle cavities by remineralizing enamel and reducing gum inflammation. The tooth powder is also certified vegan and cruelty-free by PETA.
5. The Dirt's Powdered Toothpaste
The Dirt's Powdered Toothpaste is a Los Angeles-based oral care company that makes minimalist Toothpaste and powders. 
They have two flavors available: sweet spice orange and super mint. Both are available in powder form, which you add water to until you achieve the consistency you prefer. This can be packaged in single-use pouches or in bulk containers. The Dirt's powdered Toothpaste is 100% biodegradable and compostable!
6. Dirty Hippie Zero Waste Toothpowder
Dirty Hippie Cosmetics is an Australian company that creates handmade, organic, and quality products that put animals and the environment first. The Dirty Hippie Zero Waste Toothpowder is made from detoxifying clays and whitening bicarbonate soda. It's free of fluoride, parabens, chemicals/fillers, flavoring, palm oil, or preservatives—and it's also vegan friendly!
The glass jar toothpowders are cruelty-free and work great at removing plaque without harsh chemicals. Dirty Hippie Cosmetics creates beautiful products that are also good for your body and the planet!
Related: Easy DIY Zero Waste Beauty Recipes
7. Naked Dental Crush Toothpaste Tablets
Naked's Dental Crush Toothpaste Tablets are a great alternative to Toothpaste that contains BPA and plastic. They're made with a fluoride formula reinforced by enamel-strengthening ingredients, so they don't contain foaming agents or stabilizers like SLS, carrageenan, or triclosan. They're 100% cruelty-free, vegan-friendly, and safe for those with sensitive skin.
Naked Company is remarkable for its Amazon reforestation involvement—for every product sold, the Company plants a tree.
8. Denttabs Tooth Tablets
Denttabs Tooth Tablets are a great alternative to traditional Toothpaste. They come in compostable bags containing palm oil derivatives, which some people prefer not to include in their Toothpaste.
As a result, their tablets do not contain any aluminum or nanoparticles, making them vegan-friendly and cruelty-free. Some people prefer Toothpaste that doesn't contain sodium fluoride, and tooth tablets are an option. The product is sold with a compostable bag that can be used for trash disposal or as a seed starting medium for growing plants!
9. Unpaste Zero Waste Toothpaste
Unpaste Toothpaste is made by Unpaste and is a toothpaste that contains no plastic, BPA, chemicals, or harsh ingredients. It's safe for your teeth, body, and the environment. The original version does contain fluoride. They also have a fluoride-free option.
The Toothpaste is 100% natural and made with organic ingredients. It doesn't contain preservatives, dyes, palm oil, aluminum, or other toxic chemicals. It also doesn't have foaming agents or other petroleum-based products.
Unpaste only makes sustainable zero-waste Toothpaste so you can feel good about what you're putting on your mouth and into your body!
Final Thoughts
Toothpaste without plastic and BPA is the best to use. They have the same benefits as regular Toothpaste, with no drawbacks. Some even taste better and offer unique flavor combinations. The next time you shop for Toothpaste, try one of these natural brands out and see if they work for you.
—
Browse our directory to find more eco-friendly brands.