Conventional vitamins and supplements are often packaged in plastic which isn't biodegradable and sustainable. The containers, droppers, labels, and boxes all have some impact on the environment through waste generation. 
The vitamins and medicines are wasteful as sometimes the tablets are often wasted, as they are forgotten and gone out of date. The plastic elements in medicines eventually lead to more waste generation, which adds to landfills and pollutes water bodies. 
Fortunately, many companies are applying innovative methods of packaging to create plastic free vitamins and supplements, which contribute to a healthy environment around us. Most have shifted to glass or compostable packaging to avoid plastics and offer refill options.
Several companies have put dedicated efforts into creating zero-waste vitamins and supplements and have come up with various solutions. This article will make you aware of the plastic-free vitamins and accessories available in the market.
Can Plastic Vitamins Bottles be Recycled?
In most cases, if the pill containers are made of hard plastic, they are acceptable in most local recycling schemes provided they are empty, clean, and dry. Make sure to remove the lids as these are often made with a different type of plastic and are not recyclable in your kerbside recycling (please check with your local Council). The same is true for those vitamins and supplements that are packaged in glass bottles. However, even better is to try to reduce your (plastic) waste footprint, and this is what we are here for.
Plastic Free Vitamins and Supplements
Most vitamins and supplements come in single-use plastic packaging, which is not the best choice if you are concerned about its environmental impact. People are now looking for a more sustainable and eco-friendly way to get essential vitamins and minerals. We will mention the best zero-waste supplements on the market and highlight the qualities that make them sustainable, healthy, and environment-friendly.
This post contains affiliate links, which means we may receive a small commission, at no cost to you, if you make a purchase through a link. This helps us continue the hard work we put into researching products and solutions.
1. Vegan Collagen Beauty Support Gummies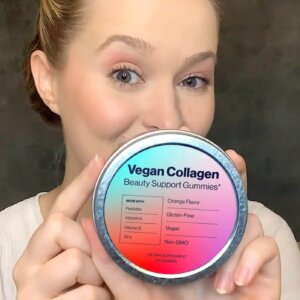 Habit + Habitat has created vegan, cruelty-free collagen gummies. Instead of gelatin, they use ethically sourced peptides that are precursors to your body's natural collagen production and are made in the USA. The gummies are gluten-free, and GMO-free. They contain key Animo Acids including Glycine, L-Lysine, L-Proline, Vitamins A, E, and zinc. They are available in a tropical orange flavor. Having supplements in a metal tin is very convenient as you can take the gummies wherever you go without the need of adding water or any liquids. Apart from the collagen supplements, they also have Cinnamon Blood Sugar Support Gummies, Thyroid Plus Hormone Support Gummies, and Prenatal Blend+ Prenatal Support Gummies.
Size: 60 gummies
Usage: 2 gummies / day
Packaging: Plastic-free aluminum tins, that are fully recyclable or reusable.
Check the latest price on:
2. Pure Radiance C Vitamin

Pure Radiance C is a 100% natural vitamin C from certified organic berries including camu camu, acerola & amla. Contrary to other products on the market it contains only natural vitamin C and flavonoids, NO added synthetic ascorbic acid. It is non-GMO, vegan, gluten-free, dairy-free, and corn-free. This natural antioxidant helps bolster your healthy immune system and offers extra support during the long winter months as well as pollen season. All products by Pure Synergy are made in the USA, in Utah, in a wind-powered certified organic facility. They offer several plastic-free vitamins, superfoods, and formulas. The company has also obtained B Corp certification status.
Size: 90 capsules
Usage: 1 capsule once or twice daily, with or without food.
Packaging: All products are packed in recyclable glass jars with aluminum lids. A few years ago they ditched the plastic lids (except iron-containing products that, by law, are required to have child-resistant lids, which are only offered in plastic). Furthermore, to be true to their eco-friendly company mission, they are in the process of eliminating the plastic neck bands from our bottles, which accounts for the equivalent of 18,841 meters of plastic saved each year.
Check the latest price on:
3. Vegums Multivitamin
Vegums is a UK-based company that launched their eco-friendly multivitamin in 2018. Two pharmacists decided to develop vegan chewable gummy vitamins, as they thought nobody enjoys swallowing tablets. (They were right!) The plant-based and natural ingredients help protect you from any toxic effects of chemicals and keep you topped up on Vitamins B6, B12, D3, Iodide, Selenium & Folic acid. The sweetening result is obtained from real strawberries, and black carrot extracts give the red color. They are certified vegan by The Vegan Society.
Size: 60 gummies
Usage: Adults (over 12 years old) – 60 gummies. 2 per day. Children (over 3 years old) – 30 gummies. 1 per day.
Packaging: The gums come in plastic-free packaging, made from cellulose cornstarch so they can go straight in your compost when you're done! They also use recyclable metal containers, cardboard boxes, and envelopes for shipping.
Check the latest price on:
4. Vegums Fish-free Omega-3
This vitamin contains vegan omega-3 from sustainably sourced marine algae, which is carefully purified and free from contaminants. These plastic free supplements use natural colors and flavors like orange and beet sugar extracts. They provide you with a huge 80mg DHA per daily dose, to help maintain healthy eyes, skin, heart, and brain.
Size: 30 gummies
Usage: Adults (over 12 years old) – 60 gummies. 2 per day. Children (over 3 years old) – 30 gummies. 1 per day.
Packaging: eco-friendly packaging made of compostable materials (cellulose wrapping), recyclable metal containers (tins), cardboard boxes, and envelopes.
Check the latest price on:
5. Vegums Iron Gummies
This vitamin is rich in iron, an essential nutrient for the human body to prevent fatigue and lack of energy. The iron content comes from purely plant-based ingredients, and the product is naturally flavored and sweetened by blueberry extracts with no artificial ingredients. Each gummy contains 7mg of iron to keep your levels right, prevent anemia and boost your energy.
Size: 30 gummies
Usage: Adults (over 12 years old) – 60 gummies. 2 per day. Children (over 3 years old) – 30 gummies. 1 per day.
Packaging: The packaging is made environmentally friendly using plastic-free compostable cellulose wrappers.
Check the latest price on:
6. Nourished – Personalised 3-D Printed Vitamin Gummies
Nourished is a new innovative UK-based company that produces personalized 3-D printed vegan, sugar-free nutrient gummies. The gummies are packed with scientifically backed vitamins, minerals, and nutrients. You take a 2-minute online quiz on their website to discover your recommendation, tailored to your lifestyle and goals. All of their ingredients are sourced from high-grade vegan whole food sources and lab-tested to ensure that every Nourishment is custom, quality, and made to order.
They offer 23 different stacks: The Inner Beauty, The Essential, The Inner Defence, The Prenatal, The Inner Vitality, The Inner Strength Stack, etc etc. You can even personalize your own stack.
Size: 28 gummies
Usage: 1 daily gummy.
Packaging: plastic-free, fully compostable wrapping
Check the latest price on:
7. APSU – Superfood Multivitamin
Apsu Superfood Multivitamin is a premium multivitamin supplement made with green tea extract and a blend of 42 fruits and vegetables made in the USA in an FDA-registered and GMP-compliant facility. This non-overdosing and vegetarian supplement is designed to improve strength, flexibility, functionality, endurance, immunity, and recovery. It is suitable for both men and women and is perfect for those with high to moderately-active lifestyles.
Size: 60 tablets
Usage: 1 capsule early in the day with a meal for the best results.
Packaging: Cleaner packaging solution that is 100% paper-based, 100% recyclable, 100% compostable, and 100% plastic-free. They also sell a reusable, plastic-free, stainless steel 8 oz non-insulated canister manufactured by Klean Kanteen to securely store your vitamins. Last but not least, they ship all products in cardboard boxes with non-plastic sealing tape and tissue filling to minimize damage.
8. Ethical Nutrition – The Ethical Multivitamin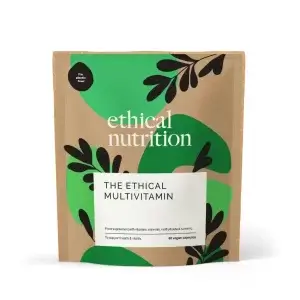 Ethical Nutrition is a company that produces 100% plastic-free vitamins with natural formulations made in the UK. Their products are entirely vegan and don't contain additives or palm oils. The herbal ingredients of these plastic-free supplements provide immunity and energy with a reduction in stress and anxiety levels. The Ethical Multivitamin includes 26 superior vitamins, minerals, and nutrients with organic turmeric and broccoli. it is well absorbed, high strength, and effective at a fair price. Every order helps to remove plastic from the environment, as Ethical Nutrition has partnered with Greenspark.
Size: 60 capsules
Usage: 2 capsules per day.
Packaging: As the company couldn't find any truly eco-friendly packaging, they produced one on their own by using a 100% paper mailing box sealed with eco-tape. These paper pouches are lined with a zero-plastic, vegan barrier to keep the products fresh. They are certified ocean and landfill-compostable. They are also certified by the UK recycling association as you can simply place their pouches in the paper recycling.
Check the latest price on:
9. Form Vegan Multivitamin
Multi provides specially formulated plastic-free vegan vitamins which are great for your health and the environment. These vitamins include vegan DHA (from algae sources), Choline for brain health, and vegan Vitamin D3 from Vita-algae D® to support your immune system, improve your digestive health, and help with nutrient synthesis. 
Size: 60 capsules
Usage: 2 capsules a day with food.
Packaging: Recyclable glass jar with a plastic lid. Form uses eco-friendly packaging with provisions for refilling, which can later be reused or recycled. In fact, their reForm closed-loop program invites customers to send back 5 empty jars and receive a full one of their choice in return, free of charge. The returned jars are cleaned, sanitized, and reused in their manufacturing process. Visit their website's sustainability page to download the free returns label.
Check the latest price on:
10. Form Boost
Multivitamins target one's health needs and make dietary supplements rich in nutrients. This product contains plant-based and natural ingredients, which are a significant source of human nourishment and are dairy-free, gluten-free, GMO, and soy-free. It has been particularly developed to boost your energy, so it's perfect as a pre-workout or any time you need focus and energy. It's like a strong cup of coffee without the jitters. 
Size: 30 capsules
Usage: One capsule as required
Packaging: recyclable glass jar with a plastic lid. Form has created a closed-loop system by which 5 empty jars can be returned to be cleaned, sterilized, reused, and refilled with the same packaging. Visit their website's sustainability page to download the free returns label. The customer can then receive a voucher for a free product. It also uses compostable and bio-based paper foam for shipping purposes.
Check the latest price on:
Related: The 14 Best Plastic-Free Coffee Makers: Enjoy Deliciously, Guilt-Free Coffee Every Morning
11. Form Edge
It provides a vegan, zero-waste vitamin supplement that suits your lifestyle the most. The product is ethically sourced using natural herbal-based ingredients, potent nootropics, and B-Vitamins. It is a cognitive enhancer that doesn't contain lactose, sugar, gluten, GMO, or other additives. 
Size: 60 capsules
Usage: 2 capsules a day with food.
Packaging: The packaging is done in glass bottles to avoid plastic pollution after disposal. Form has created a closed-loop system by which 5 empty jars can be returned to be cleaned, sterilized, reused, and refilled with the same packaging. Visit their website's sustainability page to download the free returns label.
Check the latest price on:
12. Dr.Vegan Daily Multi-Vitamin
DR.VEGAN has developed a large range of eco-friendly vegan supplements made in the UK, led by science, and created by expert nutritionists with clinically studied plant-based ingredients. Their formulas contain only bio-available effective ingredients, zero nasty additives, and zero bulking or anti-caking agents.
Their award-winning Daily Multi-Vitamin is an advanced formula with 24 essential nutrients and is suitable for all diet types. It is the daily support for your energy, stronger immunity, healthier skin, hair, and nails, improved digestion, mental performance, and mood.
Size: 60 capsules
Usage: 2 capsules a day.
Packaging: Plastic-free and compostable pouches, plus they offer a free travel-sized refillable Pill Tin that comes with your first order and allows you to minimize waste.
Check the latest price on:
Related: 9 Plastic-free Vegan Protein Powders
13. Vivo Life Vegan B12 Supplement
This UK-based company provides a wide range of plant-based medicinal products, including plastic-free supplements and plastic-free vitamins. The B12 formula provides the desired nutrients through natural components and has a delicious orange flavor. It is made in liquid form for quick absorption.
Size: 60ml
Usage: 1ml daily (use the dropper), or as directed by your health professional. 1ml contains 500mcg Vitamin B12. Once opened keep refrigerated.
Packaging: Recyclable glass bottle with dropper.
Check the latest price on:
14. Vitable Plastic-free Vitamin Sachets
 
Vitable is an innovative Australian company that doesn't believe in one size fits all products. They believe that your vitamins should only contain ingredients that you need, in their best form. For these reasons, they have created an eco-friendly personalized vitamins & supplements subscription whereby daily packs start at under $1.00/day but are delivered monthly. All you have to do is take their simple quiz to get a daily vitamin pack tailored to your goals, lifestyle, and diet. All supplements are made in Australia without nasties and GMOs.
Even though the packs are personalized, they aren't necessarily more expensive. The reason is that they're direct-to-consumer, so they cut out middle-man margins and extra transportation costs. Then pass those savings on to you. Last but not least, they have partnered with Trace and are a carbon-neutral company.
Size: The number of pills is personalized after the test
Usage: Take 1 sachet of vitamins every day
Packaging: Home compostable sachets made of cellulose produced from Eucalyptus trees. The sachets have been certified by TUV Austria's OK compost HOME System and are ABA-certified Home Compostable (verification scheme throughout Australia and New Zealand). The shipping box and the dispenser where to store the sachets are are 100% recyclable. 
15. Nutra Organics Super Greens + Reds Powder 
This Australian-made plastic-free multivitamin is an all-in-one wholefood blend of 23 nourishing greens & reds to support immunity, gut well-being, energy, acid-alkaline balance, antioxidant protection, and more. It is vegan, gluten-free, and contains no synthetic ingredients. Naturally sweetened and pleasant tasting. It has 18 vitamins & minerals from all-natural sources, including vitamins A, C, D, E, K, and B vitamins, calcium, iron, magnesium, and zinc. Suitable for the whole family including pregnant & breastfeeding women and kids from 12 months +.
Size: 150g
Usage: add 3 teaspoons 9g to liquids or foods
Packaging: Sustainable plastic-free packaging as it comes in a fully recyclable aluminum tin.
Check the latest price on:
16. Wild C Truly Natural Vitamin C
This product is Australia's ONLY entirely natural vitamin C supplement. This vegan, gluten-free, raw superfood blend is organically sourced from 100% whole food superfoods like wild berries, Acerola concentrate, and greens. It does not contain any juice powders which may contain carriers, flavors, extracts, isolated vitamins and minerals, fillers, or sweeteners. It tastes natural and delicious. This product is made of naturally occurring Vitamin C, rather than the synthetic Ascorbic Acid found in most mainstream vitamin products.
Size: 150g
Usage: 1 teaspoon (3g) of Wild C mixed into liquids 1-3 times a day. The body can only absorb between 200-500g of vitamin C per serving, so it's best to have a serving at different times throughout the day.
Packaging: Sustainable plastic-free packaging as it comes in a fully recyclable aluminum tin.
Check the latest price on:
Conclusion
The environmental impact of ingredients, manufacturing, and packaging of vitamins and supplements is a matter of great concern today. A wide range of zero-waste, plastic-free vitamins, and supplement solutions can improve your health by protecting you from adverse side effects of undesirable chemicals, additives, and synthetic elements. Vegan medicines contain no animal-derived components, only natural colors, and flavors.  
It also helps reduce plastic waste generation with biodegradable, recyclable, and environment-friendly packaging. The above-mentioned brands offer eco-friendly and vegan options to help you maintain your health and prevent harmful effects on the earth.
 As you choose these zero-waste vitamins and supplements, you ensure that you're opting for the most suitable product that is good for you and the environment. 
Disclaimer: This blog article has been written for information purposes only. By providing the information contained herein, we are not diagnosing, curing, treating, mitigating, or preventing any type of disease or medical condition. Before beginning any type of natural or integrative treatment, it is advisable to seek the advice of a licensed healthcare professional.
__
Browse more blog articles related to plastic-free groceries.
Browse the I'm Plastic Free directory to discover plastic pollution solutions.