Deodorant is a daily use product extensively used by people, especially those living in tropical countries who have to apply it multiple times a day. Most deodorants are still packaged in plastic packaging or come in aluminum spray bottles that have a higher carbon footprint. According to "Facts, and Figures about Materials, Waste and Recycling" published by the US Environmental Protection Agency in 2017, nearly 15 million tons of plastic was being used in deodorant containers and packaging produced in the United States alone. Can you imagine globally?
Can Plastic Deodorants be Recycled?
A lot of deodorant plastic containers are not easy to recycle for these reasons:
Some containers are made of multiple types of plastic parts, including multiple materials that make up their lid, the bottom wheel, the plastic stick inside and the main body.
These plastic types can be for example PolyPropylene (PP or plastic #5), High-Density PolyEthylene (HDPE or #2 plastic), Low-Density PolyEthylene (LDPE or #4 plastic) and some parts might be mised together. Make sure to identify the resin before trying to recycle them and get in touch with the product manufacturer.
What about other deodorant options?
Empty glass roll-on deodorants aren't recyclable unless you are able to remove the plastic roller ball
The only deodorants that can usually be recycled are the aereosol deodorant cans, after you removed the lid.
Therefore, you might have to check the rules of your local council, as to what you're able to recycle. As people become more conscious of the environmental impact of plastics, demand for plastic-free deodorant brands is on the rise. 
What is a Plastic-free Deodorant?
The answer is quite simple. It is a natural deodorant that is free of microplastics and harmful chemicals inside, in its ingredients, and it is also free of plastic on the outside, in its packaging, therefore it has a zero-waste packaging.  
Plastic components in cosmetics and body-care products not only harm the environment by generating waste but also affect our health. For example, traditional shampoo brands contain synthetic and chemical components that are not very healthy for our skin and plastic containers also end up polluting landfills and water streams after disposal.
Here are some examples of toxic ingredients to avoid when chosing a clean sustainable deodorant:
Aluminum Compounds
Parabens
Steareths
Triclosan
Propylene Glycol
Triethanolamine (TEA)
Diethanolamine (DEA)
Artificial Colors
Synthetic Perfumes & Fragrances
So, it is essential to switch to deodorant brands that use natural, possibly all organic ingredients that have no harmful effects on humans and are also suitable for keeping the environment cleaner and greener.
Plastic-free deodorants are available in:
Cardboard push-up tubes
Cardboard boxes (solid deodorants)
Aluminum tins
Aluminum tubes
Cork packaging
Glass jars with metal lids
Refillable containers
Recommended Zero-Waste Deodorant Brands
The best zero-waste deodorants are made of natural components and do not contain harmful chemicals thereby helping to minimize the effect of plastic in your daily personal care routine. Nowadays, there are plenty of options available for deodorant products made from eco-friendly materials and processes. 
Deodorant sprays, bars, or creams are now packed in plastic-free containers that significantly reduce waste accumulation in landfills. Here is a list and review of plastic-free, zero-waste deodorant brands that keep you dry, refreshed, and free from the effect of harmful chemicals.
This post contains affiliate links, which means we may receive a small commission, at no cost to you, if you make a purchase through a link. This helps us continue the hard work we put into researching products and solutions.
1. Ethique Zero-Waste Deodorant – USA / Australia / New Zealand

Ethique is the world's first zero waste beauty brand founded in Christchurch, New Zealand in 2012. It is one of the leading eco-friendly companies renowned for pioneering the market for truly sustainable toiletries with no plastic. The waste-free deodorant bars and tubes provided by Ethique are amazingly effective for all-day purposes. 
It is a completely vegan, palm-oil-free, non-toxic deodorant that is made of magnesium hydroxide and zinc oxide that have antibacterial properties. It also contains jojoba oil, almond oil, and essential oils as natural ingredients. The deodorant is available in easy-to-use bars and now the company has introduced compostable cardboard tubes as eco-friendly packaging.
Packaging: Compostable carboard tubes or boxes (for solid bars)
Ingredients: Tapioca starch, brassica alcohol, magnesium hydroxide, sweet almond oil, candelilla wax, bamboo extract, hydrated silica, jojoba esters, zinc oxide, tapioca starch, mica, essential oils (except for unscented).
Scents: Rustic™ (lyme, eucalyptus & cedar wood), Botanica™ (vanilla & lavender), Minimalist™ (unscented)
Check the latest price on:
2. Native Plastic Free Deodorant – USA
Native plastic free deodorant is the latest addition to this successful US brand of naturally-derived and effective deodorants. This deodorant is available in plastic free packaging made from paperboard sourced from responsibly managed forests. According to the company's estimations, switching from a Native classic to Native Plastic Free deodorant will help reduce plastic waste by up to 169 tons each year. This product is also a proud member of 1% for the Planet, so they donate 1% of your purchase to environmental nonprofits.
All their producs are all made in the USA from naturally derived ingredients, aluminum free, paraben free, vegan & cruelty free and offer effective odor protection as demonstrated by the over 50,000 5-star reviews.
Packaging: Compostable carboard tubes
Ingredients: Caprylic/capric triglyceride, tapioca starch, ozokerite, sodium bicarbonate (baking soda), magnesium hydroxide, coconut oil, cyclodextrin, shea butter, dextrose, and L. Acidophilus (probiotic). The scented deodorants include a proprietary blend of oils.
Scents: Coconut & Vanilla, Lavender & Rose, Cucumber & Mint, Citrus & Herbal Mausk, Cotton & Lily, Charcoal, Unscented.
Check the latest price on
3. Raw Sugar Deo Trio Bundle – USA
Have you been looking for an affordable plastic free deodorant without a ton of nasty ingredients in it and thought it was impossible to find? This deo trio bundle by Raw Sugar will make you happy, as it's a cruelty-free, vegan clean deodorant made with naturally-derived ingredients and certified organic cold-pressed extracts, free of aluminum, talc, baking soda, parabens, and propylene glycol. It comes in a bundle of three products, from an unbeatable price of US $7 each.
Packaging: 100% biodegradable packaging (it's a cardboard tube)
Ingredients: Arrowroot Powder, Caprylic/Capric Triglyceride (Coconut-Derived), Coconut Oil, Sunflower Seed Wax, Triethyl Citrate, Magnesium Hydroxide, Zinc Ricinoleate, Tocopherol (Sunflower-Derived Vitamin E), Linalool, Fragrance (Parfum & Essential Oils). This was an example list of ingredients. Please refer to their website or product packaging for the most up-to-date ingredient list.
Scents: Vanilla Bean + Charcoal; Lemon Sugar + Lavender, Beach Rose + Aloe
Check the latest price on:
4. Pack & Leaf Zero Waste Deodorant – USA

This brand offers some of the best plastic-free vegan deodorants that are made of natural components like magnesium oxide, shea butter, coconut oil, arrowroot powder, and jojoba oil.  The vitamin-E enriched deodorant comes in a full size stick and a travel size stick for on the go. The great smell is obtained from plant-based natural fragrances such as lavender, peach, coconut, vanilla, and lime. 
The brand is committed to providing products free of harsh chemicals, parabens, or synthetic components.
Packaging: Compostable carboard tubes
Ingredients: Shea Butter, Coconut Oil, Magnesium Oxide, Arrowroot Powder, Candelilla Wax, Baking Soda, Jojoba Seed Oil, Vitamin E, Natural Scents & Essential Oils differ for each scent.
Scents: Coconut & Vanilla, Cucumber & Lavender, Coconut & Lime, Peaches & Cream.
Check the latest price on:
5. No Pong All Natural Palm-Oil Free Deodorant – Australia / Canada
No Pong was founded in Sydney, Australia in 2015 where Chris & Melanie started making their first batch in the kitchen. Their first formula proved to be very effective on a surfing trip in Indonesia, so they decided to share this discovery with the world and that was the start of their successful eco-friendly business. From there, the business has grown to become Australia's favorite natural deodorant, that is also palm-oil free. It is the zero waste deodorant of our choice here in Australia because it's very effective and smooth to apply on the skin (i.e. that's our own photo of the product).
Packaging: recyclable aluminum tin.
Ingredients (original): Cocos Nucifera (Coconut Oil), Sodium Bicarbonate (Baking Soda), Corn Starch, Beeswax, and a proprietary blend of gender neutral 100% pure, Australian certified organic essential oils consisting of Orange Sweet, Vanilla, Lemongrass, Cedarwood Atlas, Bergamot, Lime, Frankincense, Ylang Ylang, and Geranium. The bicarb-free version replaces the sodium bicarbonate with magnesium hydroxide, and diatomaceous earth. The vegan versions do not contain beeswax. For the exact ingredients of each version, please refer to the No Pong website.
Scents: Original, low fragrance bicarb-free (sensitive), vegan cool lavender, vegan flower power, vegan fragrance free, spicy chai, spicy chai bicarb-free.
Check the latest price on:
6. Eco Roots – USA
This brand utilizes organic ingredients that have natural properties to reduce body odor, keep you dry all day, and give you a feeling of freshness. Their zero waste deodorant is ethically handmade in the USA and it is aluminum-free, paraben-free, cruelty-free, baking-soda free, and vegan.
Packaging: the deodorant tubes are packed in biodegradable cardboard tubes.
Ingredients: Coconut Oil, Shea Butter, Arrowroot Powder, Wildcrafted Candelilla Wax, Magnesium Hydroxide, Non-Nano Zinc Oxide, Jojoba Oil, Essential Oils (different ones according to the scent). For the exact ingredients of each version, please refer to the Eco Roots website.
Scents: Coconut, Lavender, Eucalyptus + Mint.
They sell the Deodorant Cream in Glass Jars also on Amazon USA
7. Fat and the Moon Aluminum Free Dedodorant Cream – USA
Fat and the Moon offers herbal deodorant creams handmade in the USA (California) from ethically and safely sourced ingredients like organic coconut oil, arrowroot powder, beeswax, and essential oils. The deodorants are soothing and mildly scented with no parabens, sulfates, phthalates, or toxins and come in eco-friendly packaging.  The Sensitive Pit Deodorant Cream version doesn't use baking soda, which makes it more skin-friendly.  This cruelty-free clean deodorant is affordable and effective.
Packaging: the deodorant cream comes in a recyclable glass jar with recyclable metal lid.
Ingredients: Coconut Oil*, Baking Soda, Arrowroot Powder*, Beeswax, Essential Oils of Black Pepper*, Clary Sage*, Bergamot*, Tea Tree* & Grapefruit* (*Organic). For the exact ingredients of each version, please refer to the Fat and The Moon website.
Scents: none, available in either original  (see the ingredients above) or sensitive version.
Related: Plastic Free Shaving Creams: 8 Zero Waste Options
8. Rainwater Botanicals Natural Dedodorant – USA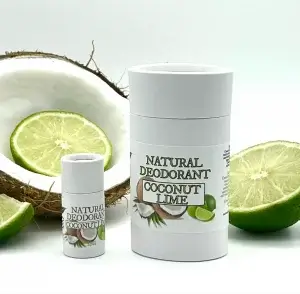 This company offers zero-waste deodorant for sensitive skin which uses a blend of clay, skin-nourishing oils, and bacteria-resistant arrowroot powder. Rainwater Botanicals focus on using local, organic, and ethically sourced natural ingredients. 
The product is vegan, palm oil-free, and sustainable. The company contributes toward zero-waste initiatives by using cardboard, glass, and metal for the packaging of all products and offering refills in compostable bags wherever possible.
Packaging: recyclable cardboard tubes.
Ingredients: Soy wax(non-gmo), Organic virgin coconut oil, Organic arrowroot powder, Baking soda, Organic neem oil, Tamanu oil, Kaolin Clay, Rosemary extract, Essential oils. For the exact ingredients of each version, please refer to the product listing.
Scents: Timber, Speakseasy, Silk Road, Off The Road, Spruce & Cardamon, Wild Rose & Bergamot, Lemongrass, Patchouli Citrus, Magadascar, Coconut Lime, Lavender Sage.
9. Biork Plastic Free Potassium Crystal Deodorant Stick – USA / Australia
Biork is the first plastic-free potassium crystal deodorant stick that has been packaged in cork instead of plastic. For this reason, they were awarded the plastic-free product label by the independent German certification body Flustix. Potassium alum is a natural mineral salt that forms a protective layer on your skin that inhibits the growth of odor-causing bacteria. This crystal deodorant lasts longer compared to other deodorants, it can last up to one year. Biork uses a high quality crystal stone that is naturally made in Central America. It is milled from one piece and it is not glued together like most "cheap" stones from Asia. All their products are manufactured in Switzerland under the highest quality standards.
Packaging: Compostable / biodegradable cork
Ingredients: Potassium alum
Scents: Unscented
Check the latest price on:
10. Urthly Organics Natural Deodorant – Australia
Urthly Organics is a long standing Australian made brand that started selling aromatherapy soaps, then developed a complete range of natural cosmetics. This handcrafted vegan deodorant paste is bi-carb, beeswax free and certified palm oil free.
Packaging: Recyclable and reusable aluminium tin
Ingredients: *Arrowroot powder, *cacao butter, candelilla wax,*mango butter, *hempseed oil, essential oil (lavender, kaffir lime), vitamin E. (*Organic ingredients).
Scents: Kaffir Lime & Lavender, Rose Geranium & Patchouli
Shop Urthly Organics at Biome Australia 
11. AKT London The Deodorant Balm – UK

The idea behind AKT was born in London's West End where Ed Currie and Andy Coxon met performing in a show. Through the nature of their professions and the very intense performances it requires, they recognised that mainstream deodorants just weren't cutting it. So, after three years of researching, developing, and formulating, collaborating with leading experts in fragrance and cosmetic science, The Deodorant Balm was finally born… to perform!
The aluminum salt free, vegan and natural formula made in the UK deeply moisturizes and absorbs instantly without making any mess, being sticky, or leaving any stain. A plastic-free deodorant that works!
Packaging: Recyclable aluminum tube & even an aluminum cap! (instead of regular plastic caps).
Ingredients: Vitamin E, Shea butter, Calendula, Sodium Bicarbonate, Zinc Oxide (natural), Diatomaceous Earth, Arrowroot. See the full ingredients list on their website.
Scents: Orange Grove, After Thunder, The Onsen, Halcyon Summers, Columbia Road.
Check the latest price on:
12. Battle Green Vegan Natural Dedodorant – UK 
It is a PETA-certified cruelty-free brand making vegan products. The deodorants contain non-toxic organic ingredients like coconut oil, shea butter, arrowroot powder, and soybean oil. 
Packaging: compostable cardboard tubes or metal cans. 
Ingredients: Coconut oil, shea butter, arrowroot powder, and soybean oil. Some of the ingredients and essential oils vary from scent to scent.
Scents: Lavender, Mint, Tea tree, Grapefruit, and Orange. 
Shop Battle Green on the Etsy website.
13. Each & Every Aluminum Free Dedodorant – USA
Each & Every is a 100% vegan and cruelty-free brand that follows clean criteria and ecology-oriented practices in all parts of the supply chain. The deodorants are free from chemicals, parabens, gluten, baking soda, and artificial fragrances. They contains coconut oil, tapioca starch, and natural essential oils. However, please note that this is not a plastic-free brand. The packaging is designed from renewable and carbon-negative sugarcane. To ensure that the products have a sustainable end of life, the company also offers the Conscious Club Recycling Program by which you can save 5 empties of (any size, any product) and then reach out to them to request a free return label.
Packaging: Sugarcane renewable plant-based plastic, instead of fossil fuels. 100% recyclable, but please note that this material is not biodegradable nor compostable. We listed this product to educate the readers about different alternatives on the market.
Ingredients: Caprylic/capric triglyceride, Tapioca starch, Ozokerite, Magnesium Hydroxite, Magnesium Carbonate, Piroctone Olamine. Some of the ingredients and essential oils vary from scent to scent.
Scents: Lavender & Lemon, Rose & Vanilla, Citrus & Vetiver, Coconut & Lime, Cedar & Vanilla, Cardamom & Ginger, Geranium & Snow Mushroom, Unscented & Fragrance Free.
Check the latest price on:
14. Tierra & Lava Deodorant – USA
This woman-owned company uses all-natural botanicals and minerals that are sourced locally in Guatemala and are free of animal testing, genetically modified ingredients, artificial colorants and fragrances, palm oil, parabens and phthalates, sulfates and detergents, and mystery ingredients. They aim to provide products to customers who want to maintain a zero-waste lifestyle with environmentally sustainable solutions. Their handmade natural deodorants are plastic-free and zero-waste, and have natural fragrances obtained from plant-based sources like lavender, lemongrass, and neem. The only drawback is that they are a bit on the expensive side. 
Packaging: compostable paper tubes. 
Ingredients: coconut oil, cocoa butter, beeswax, zinc oxide, magnesium sulfate, corn starch powder nf, arrowroot powder, castor seedoil, carnauba wax, lactobacillus ferment, different essential oils depending on the scent. For the exact list of ingredients of eech scent, please refer to the Tierra & Lava website.
Scents: Copal & Lemongrass, Mayan Black salt & Ylang Ylang, Chamomile & Neem. 
Related: Things You Need To Know About Eco-Friendly Jewelry
15. Trail Botanica Deodorant – USA
This woman-owned company is passionate about ethical sourcing and makes products with local organic ingredients. 
It makes paraben and aluminum-free deodorants that contain coconut oil, candelilla wax, illipe butter, grapeseed oil, and zinc oxide. 
Packaging: The product is sustainably packed in compostable cardboard or reusable tins, with biodegradable labels printed in wax-based ink.
Ingredients: Illipe seed butter, sinc oxide, coconut oil, grapeseed oil, sunflower wax, arrowroot powder, bentonite, witchhazel leaf extract, citric acid. For the exact list of ingredients of each scent, please refer to the Trail Botanica website.
Scents: Trail Blazer Everyday, Awaken Adventure Everyday, Wise Lemongrass Gentle, Righteous Rebel Advanced.
Further Tip: How to Best Apply a Natural Deodorant in a Cardboard Push-up Tube?
It can be a little adjustment to switch from a deodorant in plastic packaging to one packaged in a cardbord push-up tube, because the conventional manual deodorants in plastic have a little wheel at the bottom that you rotate pushing the product out and back in.
Here are some easy hacks on how to use a plastic-free deodorant in a cardboard tube:
Simply push up the product out with your thumb and hold it at the top. Then place it on your underarm for a couple of seconds to warm the stick and then gently swipe a couple of times. Keep holding it while you apply it. Finally you tap it with your hands to get the product back inside. Not too difficult, right? We can get used to this, to save our planet.
If you live in a cold climate you may have to warm your deodorant. You can do this by rolling the tube in between your hands for about 15 seconds and warm the deodorant against the skin before swiping for easy application. Another idea is warming the deo on the heater for the same time.
If you live in the tropics, you have the opposite issue. The carboard is thick enough to prevent it from leaking but keep it in the fridge if you see that it is becoming too soft and take it out 15-20 minutes before usage. We found this method useful.
Conclusion
Conventional deodorants are rarely recycled properly due to the presence of composite plastic combinations and add to waste polluting the environment.
The harmful chemicals also produce an adverse impact on the environment as well as our health due to the mixing of toxic elements in the air during the use of deodorants. 
Now, many zero-waste deodorant alternatives are available to help you maintain a less wasteful and eco-friendly lifestyle.
—
Browse our blog articles related to plastic-free beauty.
Browse the I'm Plastic Free directory to discover more zero-waste beauty brands.