In recent years, the global movement towards sustainable living has gained significant momentum. As consumers become more conscious of the environmental impact of their choices, they are seeking out eco-friendly alternatives in various aspects of their lives. One such area that is undergoing a positive transformation in the fashion industry, often named as slow fashion (as opposed to fast fashion which is typical of a linear society), is plastic-free underwear. In this article, we will explore the importance of non plastic underwear, its benefits, and the brands leading the way in creating stylish and sustainable undergarments that non only feel good on your skin, but are also good for the planet!
The Environmental Problem with Synthetic Fabric Underwear
Many people may not realize that traditional underwear, like traditional hosiery, is often made from synthetic fabrics, such as nylon and polyester, which are derived from petroleum-based plastics. These materials not only contribute to the growing plastic pollution crisis but also have a significant carbon footprint due to their energy-intensive production processes. Moreover, these synthetic fabrics are non-biodegradable, meaning they persist in the environment for hundreds of years when discarded, releasing microplastics that harm marine wildlife and contaminate ecosystems.
It's easy to recycle shoes, clothing, accessories, but what about underwear?
The only end for this type of garment is landfill, recycling, or composting (if all fibers are of organic origin). In fact, around 11 million pounds of underwear end up in a landfill every single day. This is very alarming and it is one of the reasons why eco-friendly organic underwear is on the rise.
Furthermore, there's another aspect that needs to be clarified. Before they end up in landfill, we need to think about their environmental impact while in life. For an average wash load of 6 kg of synthetic fibers, over 700,000 microplastic fibers could be released per wash into our oceans through the washing machine. This environmental issue is even more concerning!
Synthetic underwear and stockings. Source: Sustainable Hosiery Australia
The Health Problem with Synthetic Fabric Underwear
According to a 2003 Italian study published in the European Journal of Obstetrics & Gynecology and Reproductive Biology that looked into underwear and health, one of the factors associated with vaginal yeast infections was wearing synthetic fabric underwear, because it doesn't allow our skin to 'breathe' and thus keeps the genital area warm and moist, which are perfect conditions for the growth of yeast and infections.
Have you ever noticed that synthetic fibers easily smell?
This is because bacteria that cause body odor grow better on synthetic fibers like polyster for example. It's, therefore, very important to wear breathable underwear, aka underwear made of natural fibers, even more if you live in a hot and humid climate like the tropics.
Recent research from The Center for Environmental Health (CEH) in the USA revealed high levels of BPA in sports bras, athletic shirts and even in polyester-based clothing with spandex, including socks made for infants. BPA is a well-studied hormone disrupting chemical, which mimics estrogen and can disrupt the normal functioning of the body, including metabolism, growth and development, and reproduction.
The CEH research centre, which conducted the tests and is a non-profit consumer advocacy group focused on exposing the presence of toxic chemicals in consumer products, found those sports bras could expose wearers to up to 22 times the safe limit of BPA, based on standards set under California law — specifically Proposition 65, enacted in 1986 — that the maximum allowable dose level for BPA via skin exposure is 3 micrograms per day. Throughout 2021, CEH has pushed more than 90 companies to reformulate their products to remove all bisphenols including BPA, and some have already agreed to do so. It's no wonder that more and more people are now searching for BPA free organic sports bras.
The Advantages of Compostable Underwear
Reducing Plastic Pollution:
By choosing plastic-free underwear, consumers can actively contribute to reducing plastic waste and its detrimental impact on the environment. Plastic-free alternatives are made from natural, biodegradable materials that break down over time, leaving no lasting harm. Look also for plastic-free period underwear or plastic-free panty liners if you want to reduce your plastic waste footprint.
Breathability and Comfort:
Polyester-free underwear often utilizes organic fabrics like cotton, bamboo, hemp, lyocell or modal, which are known for their breathability and softness. These materials allow air circulation, preventing sweat buildup and enhancing overall comfort.
Health Benefits:
Natural fibers used in plastic-free underwear are hypoallergenic and gentle on the skin. They reduce the risk of irritation, rashes, and allergies that can be caused by synthetic fabrics and chemical dyes commonly found in conventional underwear. You can also find latex free underwear if you are allergic to this material.
Sustainability and Ethics:
Plastic-free underwear brands are committed to sustainable production practices. They prioritize fair trade, ethical sourcing, and use eco-friendly manufacturing techniques, reducing their carbon footprint and supporting responsible supply chains.
Related: Plastic-free Sanitary Pads: 13 Best Eco-brands
Best 11 Ethical and Plastic-Free Underwear Brands
Here is a list of ethically made sustainable lingerie brands that we discovered around the world. We did some thorough research to bring you underwear made of natural fibres that you can compost at the end of its life and we specify these details for every brand.
This post contains affiliate links, which means we may receive a small commission, at no cost to you, if you make a purchase through a link. This helps us continue the hard work we put into researching products and solutions to plastic/ microplastic pollution.
1. The Very Good Bra – Australia
The Very Good Bra is a brand in Australia on a mission to mitigate waste to landfill, by creating world-first, 100% plastic-free bras, compostable undies and briefs. Unlike other eco-friendly lingerie brands, they make plastic free bras in 34 proper bra sizes, not just S/M/L.
Their underwear is made using only natural, botanically-sourced materials such as organic cotton, natural rubber, and cellulose sewing thread, which means no toxins are created through manufacture and processing, and which means no spandex, polyester, or nylon.
A part from bras, they make all their products like plastic free briefs & sustainable sleep and loungerwear with 100% organic cotton or tencel, with tree rubber elastic and cellulose sewing thread. All their products are compostable or wormable at end of life, which is absolutely amazing! They are a certified BCorps, and winner of many prizes including Good Design Awards best in Class.
This year in 2023, and after a lot of requests by customers, they launched a world-first plastic-free nursing bra to overcome the issues listed above with BPA found in traditional nursing bras and affecting breastfeeding babies. This bra has a front-fastening, wrap-over style, pull-down cup for feeding, and adjustable by up to 6cm on each side of the bra to expand and contract with you.
It is made from 100% organic cotton, undyed and unbleached, grown in Turkey, processed and knitted in Spain, 100% natural tree rubber and organic cotton elastic, made in Austria, and 100% cellulose sewing thread made in Portugal. Overall the bra is manufactured by a family-owned and run factory in Portugal, established 48 years ago.
Sustainable fabrics: 100% organic cotton or tencel, with tree rubber elastic and 100% cellulose sewing thread.
Compostability: YES! 100% plastic free down to thread, labelling, hook and eye pieces. All materials are listed onto the individual product pages.
Shipping: free postage in Australia for orders over $150, free international postage for orders over $200.
2. Cottonique – USA
Cottonique has been one of the pioners in hypoallergenic clothing made of 100% cotton with zero latex and zero spandex since 2008. They knew that millions of people suffer quietly everyday from the harmful fabrics, chemicals, allergens, and irritants in clothing, because the founders had this specific problem too! So they created Cottonique, a US brand, based in California that developed allergy-free 100% organic cotton apparel that allows people to live easily without the use of synthetics.
Their patented (CHTP®) hydro-thermal fabric finishing technology stabilizes the fabric using just heat and water, making them chemical-free, soft, and highly absorbent. Their clothing is also pH-balanced to conform to the body's natural acidic level, breaking free from dyes, bleaches, and textile chemicals commonly used in other apparel. Their product range is vast and includes also plastic free underwear, tops, pants, shorts, and allergy-free clothing for men and kids.
Sustainable fabrics: 100% organic cotton with zero latex and zero spandex
Compostability: Yes! All of their natural-colored items without the latex spandex elastic (i.e. drawstring items for the bras and bottoms, tops) are compostable. The Natural color fabric has 100% organic cotton and 100% cotton thread.
Shipping: worldwide through Amazon USA – Canada – UK – Australia
3. AYA Eco Fashion – USA
Aya is a single origin brand with the entire supply chain based in Peru. All of their clothes and undewear are 100% free of plastic and made from the finest and softest Organic Pima Cotton from Peru. They do not only create a solution to plastic pollution, but they are also on a mission to educate the whole world about it through educational content. A part from latex free underwear, their product range includes plastic-free tops, shirts, dresses, and accessories with options for women, men and babies.
Sustainable fabrics: 100% organic Pima cotton from Peru.
Compostability: YES, absolutely!
Shipping: free shipping on US orders over $50.
Check out AYA Eco Fashion Underwear
4. Rawganique – USA
Rawganique was founded by off-grid island homesteaders in the USA in 1997. Their organic, natural, vegan & chemical-free clothing is made in the USA and in Europe. Safe, breathable organic cotton, linen & hemp bras and plastic free panties without toxic dyed & forever chemicals. They offer many latex-free, elastic-free styles in clothing and compostable underwear options, like the Corbin organic cotton boxers and also styles that feature bio/organic elastic and organic cotton thread like Greenwich and Joey bio elastic edition in natural etc. Overall, they have a very vast product range that even includes home products and accessories.
Sustainable fabrics: cotton, linen, hemp.
Compostability: only the elastic-free and latex-free underwear.
Shipping: worldwide from the USA.
Check out Rawganique Underwear
5. WAMA – USA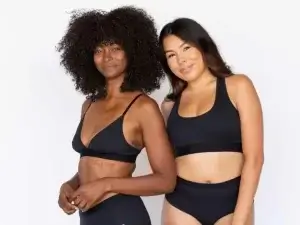 WAMA creates hemp underwear, aka using hemp fabric, which requires fewer resources to grow compared to traditional cotton. Hemp fabric has many benefits like being naturally anti-bacterial, anti-microbial and super soft, breathable and gets softer with every wash. Therefore, hemp is the perfect fabric for your underwear. Their durable and naturally antimicrobial underwear offers a stylish and sustainable alternative for eco-conscious individuals. Products include several great options for men's underwear ranging from plastic free boxers, boxer briefs, trunks, and briefs. All products are designed in the USA and ethically made in China.
Sustainable fabrics: hemp / cotton.
Compostability: No. WAMA underwear is made from organic cotton and spandex (53% hemp / 44% organic cotton / 3% spandex) so it's not completely compostable at the end of its life.
Shipping: free US shipping & returns for orders over $75.
6. KENT – USA
KENT is a super natural basics brand focused on 100% GOTS certified organic pima cotton underwear made in the USA, precisely in California, that is plastic-free, vegan and the world's first compostable briefs. All KENT products are free of synthetics, microplastics, BPA's, pesticides and petrochemicals to let your body, and our planet, breathe easy. They offer plant-based basics for women and for men.
We love their slogan that you can literally "Plant Your Pants" – in fact, when you compost their underwear, they will disappear back to earth in 90 days enriching the soil. By choosing KENT, you're joining our mission to save the earth, one super natural basic at a time.
Sustainable fabrics: 100% GOTS certified organic pima cotton, ZERO synthetics – aka zero plastic / petrochemical based materials.
Compostability: YES, 100% home and commercially compostable underwear, you can plant your undies! Their "back-to-earth" basics are designed to wear slow and last long. When their time is up, pop your KENT products in your compost and they will become nutrient-rich soil. They also introduced the "Compost Club" which facilitates the circular journey of compostable clothing. Here is how it works: customers purchase a Compost Club shipping label and send their KENT briefs ready for compost with carbon neutral shipping. Their team sorts, sanitizes and preps all items for the compost, and customers receive a credit for future compostable products. Isn't this circular, zero waste underwear solution absolutely innovative and fantastic? You can "feel" our enthusiasm here…
Shipping: free shipping on US orders over $75.
7. Juliemay Lingerie – UK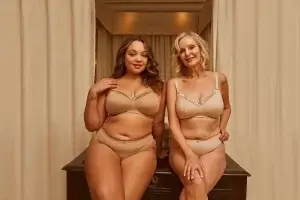 Juliemay is a sustainable lingerie brand in the UK that specialises in luxurious comfort bras, briefs and nightwear. Their allergy-friendly underwear is made with soft organic pima cotton and silk linings that cool down even the most sensitive skin. The inner crotch of all plastic-free knickers and briefs are also made with 100% pure silk, because it is a fabric that absorbs and perspires moisture quickly, it prevents odours and provides the best feminine hygiene care. They design bras for every situation and request: from comfort bras, to wired and non-wired bras, front-fastening bras, bralettes, and post-surgery bras. They are all nickel and latex free.
We also love that from their website, you can also shop by skin condition like allergies, skin rashes, hot flushes / menopause, post-surgery eczema & psoriasis, making it a fully inclusive and unique online shopping experience particularly when you suffer from one of these conditions and it is hard to find products that suit.
Please note: the products that contain silk are not vegan.
Sustainable fabrics: GOTS certified organic pima cotton, 100% pure peace silk for the linings.
Compostability: They use cotton threads, embroidery cotton lace & trims across the whole product range. However, all hooks, adjusters and wires on Juliemay's products are acrylic plastics, as this is a safer option for nickel-sensitive people. Therefore remove these parts and the straps if you want to compost your bra at the end of its life. Please note: not all products are completely plastic free, some have elastic and/or synthetic lace, therefore, verify your style with the manufacturer before composting. 
Shipping: UK shipping £3.99 – Worldwide shipping to USA/ Canada/ Australia/ New Zealand and other countries for £6.50. Free shipping on all orders over £100.
8. From Farm to Hanger – Australia
Farm To Hanger was established to prove that the pollution caused by the fashion industry did not have to exist in its current form. Its purpose was to establish a net-zero carbon emission, non-polluting fashion business model and to ensure that the garments created are the best environmentally and ethically produced. At Farm to Hanger garments are produced 100% in Australia with 75% less water & 100% pure cotton according to the circular fashion principles. All garments are made to order with current sewing time frame of 3-4 weeks. The bras have been designed for confort and are made from 100% cotton on both inner and outer layers with no exposed cup seam, Oeko Tex certified elastic, rings and sliders.
Sustainable fabrics: 100% pure cotton and 100% cotton threads.
Compostability: yes, as all garments are plastic free and compostable.
Shipping: free delivery Australia wide with orders over $149. They ship worldwide.
9. Thunderpants – New Zealand / USA / UK
Thunderpants combines organic cotton and spandex to create vibrant, comfortable underwear that embraces body positivity. One of the features of this ethical business is their unique, colourful, and fun prints on all underwear fabrics. If you're looking for sustainable underwear made in the USA, this is a good brand to support, they have a factory in Oregon, close to their office. If you're based in Asia-Pacific their branch in Martinborough, Wairarapa guarantues you ethical, eco-friendly underwear made in New Zealand. Last, but not least they also have a factory in the north of England so they manufacture their organic underwear in the UK. We are pretty impressed by this, as it shows their ethical commitment to supporting local jobs and local communities, which is great, right? Their products look pretty unique and are designed to last, reducing the need for frequent replacements.
Sustainable fabrics: 90% organic cotton, however blended with 10% Spandex.
Compostability: the manufacturer writes that you can use the underwear at its end of life as mulch around trees, but not close to water sources. We do not recommend this as the cotton fabric is blended with 10% spandex, so it's not completely free of plastic!
Shipping: free postage on New Zealand orders over $100. Free shipping on US orders over $70. Free shipping on UK orders over £60.
10. Tripulse – Sweden – Europe
Tripulse is a Swedish brand that makes innovative natural performance activewear made from certified eucalyptus wood fibers for the conscious minded. Why? Because most activewear today is made from plastic like polyester which is itchy, smelly and bad for our planet and health as we discovered above. Their no plastic activewear product line is free from toxins, climate positive, designed in Sweden, and ethically made in Europe.
In 2023 they launched the Next Gen sustainable sports bra on Kickstarter and it was an immediate success. This eco-friendly sports bra is made with an eucalyptus fabric, called TENCEL™ Lyocell which is sourced from Portugal and the final product is also ethically made in Portugal. Because it's plant-based, it's naturally becteria & odor-resistent and stays fresh no matter how hard you train. It's highly breathable for extra skin confort and suitable for people with skin allergies as it doesn't itch when you sweat.
Sustainable fabrics: TENCEL™ Lyocell made from certified eucalyptus wood fibers.
Compostability: please note that the products include some elastane in them which is why they are not compostable. Being used for activewear, they require extreme stretchiness to ensure the performance of the product. For the time being, there aren't any well performing biodegradable elastane options on the market (but they're monitoring the market in case this changes).
Shipping: free climate-compemensated shipping within EU above EUR 90.
11. Organic Basics – Denmark – Europe
Known for their timeless designs and commitment to sustainability, Organic Basics offers a range of underwear made ethically from organic cotton and TENCEL™ Lyocell directly in Europe and designed in Denmark. They ensure fair wages and responsible production while maintaining a high standard of quality and comfort.
Sustainable fabrics: organic cotton, TENCEL™ Lyocell.
Compostability: Yes, but only the garments made with organic materials. Check with the manufacturer about the threads.
Shipping: European Union, UK & USA.
Conclusion
As we strive to make more sustainable choices in all aspects of our lives, it's crucial to consider the environmental impact of our clothing, including free of plastic underwear. Embracing plastic-free underwear offers numerous benefits, from reducing plastic pollution and promoting eco-friendly materials to enhancing comfort and supporting ethical manufacturing practices. By supporting brands that prioritize sustainability, we can contribute to a healthier planet and a more sustainable future, one garment at a time. So, let's start our journey towards a wardrobe that reflects our commitment to a plastic-free world.