Conventional period care products can contain up to 90% plastic. A part from the priod pads themselves, plastic is also in the wrappers, the wings, the adhesives and the plastic tampon applicators and they take an estimated  500 to 800 years to decompose. These sanitary products are made using plastic and other synthetic materials, but can also contain artificial absorbents, fragrances, dyes, and chlorine bleach.
Did you know that globally, women dispose of 12 billion menstrual pads in landfills annually?
That's a whole lot of unnecessary waste. And on top of all that, the menstruation industry is one of the world's largest polluters. With controversy over the use of plastics in everything becoming more and more of an issue, people are looking for solutions to help them live a bit greener. The answer to the problem is plastic free sanitary pads. Below are the 14 best zero waste period brands in this category.
This post contains affiliate links, which means we may receive a small commission, at no cost to you, if you make a purchase through a link. This helps us continue the hard work we put into researching products and solutions.
1. Natracare 
Natracare brand is one of the most popular and well-known brands in the world of plastic free sanitary pads.
They are a British company founded in 1989 out of concern for the environmental impact of disposable sanitary products. The founder herself is an eco-warrior and as a pioneer, she developed the world's first brand of organic and natural period brands. They make pads and tampons from organic cotton, fluffed wood pulp, and bio-plastics and are free from all perfumes, chlorine, dyes, and pesticides. 
All their products are 100% certified organic cotton, which means you can rest easy knowing that your skin will be protected from harsh chemicals. This also makes them biodegradable after use!
The company is part of the 1% for the Planet network and donates 1% of its turnover to environmental organizations that fight to save our oceans like the Marine Conservation Society (MCS), 5 Gyres, Plastic Pollution Coalition, etc.
Check the latest price on:
2. Organyc   

Organyc pads are just made of pure certified 100% organic cotton outside and inside. Certified by the Global Organic Textile Standard, Organyc pads are clinically proven to respect sensitive skin. The cotton used in Organyc Feminine Pads is 100% biodegradable and constructed of compostable organic cotton and bleached without chlorine, no latex, no parabens, no perfumes, no SAP (super absorbent polymer), and no plastics or man-made materials. A patented design means they are ultra-absorbent to protect against leaks while respecting even the most sensitive skin.
Organyc is committed to providing the highest quality cotton products and it is strongly focused on sustainability as not only is there no plastic in its pads or any of its packaging, but they also manufacture its products using geothermal, solar, and natural energy.
Check the latest price on:
3. Glad Rags 

The Glad Rags brand has been making reusable cotton pads for over 30 years in the USA. Reusable cloth menstrual pads that snap around your pants make periods more comfortable. Each cotton pad can be cleaned and reused for up to five years, making them an economical choice.
The Glad Rags brand is one of the best eco brands today. They have various products, including diapers, tampons, menstrual cups, and more. Here is the description of one of their products.
The Glad Rags Organic Night Pad for heavy menstrual flow or post-partum protection is made with 100% organic cotton fabric and it is as absorbent as an overnight maxi pad. Every cotton reusable menstrual pad consists of 1 holder and 2 liners. This versatile 3-part design serves several purposes: altogether the layers make a thick, absorbent pad which then separates for thorough washing and quick drying. Furthermore, this design allows to customize the absorbency as you can remove 1 layer if the flow is not so heavy any longer. Last but not least, the flared ends help prevent leaks when you're lying down, so it is good for overnight use and are available in different colors.
Size: Approx. 14″ long, 3″ wide in the middle, and 5″ at the widest (when wings are snapped).
Check the latest price on:
4. Rael  
Rael has created an eco-friendly sanitary pads range made of 100% certified cotton covers. The top layer of this reusable sanitary pad is made with OCS-certified cotton, grown without the use of toxins, chlorine, pesticides, and fragrance. The next 6 layers are made of moisture-wicking cotton that alleviates unpleasant odors and irritation, all while providing high levels of leak protection. The last layer though is made of waterproof material that prevents leaks, therefore we wouldn't recommend composting these pads at the end of their life.
The hourglass shape design conforms to your body for a perfect fit, and the patented snap closure prevents any shifting, it is therefore perfect for your dynamic lifestyle. They also feature unique channels that trap fluids. They are hypoallergenic, comfortable, and breathable.
Check the latest price:
5. Thinx 
THINX was launched in 2013, creating one of the most innovative period solutions at the time that empowered everybody while igniting conversations about important (and often taboo) topics. THINX revolutionised the menstrual products industry with its groundbreaking range of reusable period-proof underwear.
Thinx creates organic cotton underwear, including pads and tampons. They are an eco-friendly company that promotes a healthier world through sustainable solutions to menstruation. Their plastic-free products make them ideal for anyone trying to reduce their carbon footprint.
Thinx's products include also reusable period underwear in three unique styles — boy shorts, hipster briefs, and thongs — to meet your individual needs. This underwear can be customized with several fabrics and absorbencies to find what you're looking for.
Check the latest price on:
6. Modibodi  
Modibodi is a brand that manufactures period underwear. It was founded by Kristy Chong, an Australian mum of four on a mission. Kristy came up with the Modibodi concept while training for a marathon in 2011 and experiencing light incontinence. While out running one day, Kristy realised the main solution available to manage incontinence was disposable hygiene products, which are ugly, inconvenient, uncomfortable, often unreliable, and bad for the environment. 
The company uses organic bamboo and wool to create an absorbent, breathable material. The idea behind Modibodi is to create zero-waste reusable period pants so that you can feel good about your period without adding to the world's plastic waste problem. Please not that while the main materials are bamboo and wool, some synthetic materials (polyester / spandex) are needed for this underwear to be leakproof, particularly in the layers, therefore this type of underwear is not compostable. 
Modibodi is focused on creating sustainable, comfortable, absorbent products—so you can feel good about your period!
Check the latest price on:
7. Flex  

The Flex brand offers a new tampon alternative lasting up to twelve hours. The reusable menstrual disc is a unique, safe, and revolutionary product designed perfectly for its purpose. It's made with a hypoallergenic, non-latex medical-grade polymer.
Flex works by creating a seal against the cervix, so you don't have to worry about leaks or moving it around during your period. This makes it perfect for light days or everyday use as it won't shift around like regular tampons when there isn't enough blood flow to stay put. Furthermore, because it sits in the vaginal fornix instead of the canal, the manufacturer states that 60% of Flex Disc users report fewer cramps while using the disc. Their rim's ComfortSeal™ technology warms and forms to your body for a personal fit that keeps you comfy during exercise, sleep, sex and more.
All of their zero waste period products are made in the USA & Canada, and having production facilities close to their warehouses, reduces energy usage and emissions that come from transit.
Check the latest price on:
Related: 9 Best Toothpaste Without Plastic and BPA
8. TOM Organic 
TOM Organics is an Australian company that exists to create a positive impact across personal care. Their tampons are also made without synthetics or plastics, but with 100% organic cotton instead, so the only ingredient to touch your body is certified organic cotton.
They sell pads, liners, reusable period cups and period underwear.
TOM Organic Regular Ultra Thin Pads are made with organic cotton and are perfect for a medium flow. These pads are naturally hypoallergenic, breathable and biodegradable.
Check the latest price on:
9. Time Of The Month (TOTM) 
Time Of The Month (TOTM) is a UK brand that offers a line of menstrual products made from organic cotton.
They have removed all plastic from the packaging, applicators, and liners. This means no harmful chemicals,  and sustainably sourced certified organic cotton in their plastic free tampons and pads.
TOTM is also committed to providing natural products that are affordable for everyone to use. Their products are priced in a reasonable range, so you can always have confidence knowing you're getting your period product needs covering!
Check the latest price on:
Related: 12 Plastic Free Shampoo Brands You Can Feel Good About Using
10. Fluus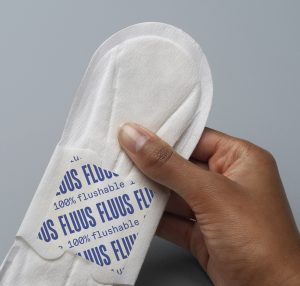 Fluus is a UK innovative company that has created the world's first fully flushable period pad, made from cellulose plant fibres, microplastic free and zero waste. They use a proprietary unique technology called Flushtec®, which makes their plastic free sanitary pads 15% more absorbent than the market leader, and once submerged in water, they break down in just a flush.
Fluus is on a mission to stop blockages in pipes, microplastic in waterways, and permanent waste created by period products, by taking responsibility for the entire lifecycle of the products and packaging they create. You use the plastic free period pad, you flush it and you forget!
Check the latest price on:
11. Lil Lets Organic
Lil Lets Organic Pads are one of the best eco brands out there. They are certified by the Global Organic Textile Standard, and their organic tampons and pads are vegan-friendly. They use only natural fibers in their products, and they do not use any chemicals or toxic dyes. Their products are biodegradable and compostable, so you can feel good about using them!
Check the latest price on:
12. FLO 
When looking for a plastic free sanitary pad, look no further than FLO Organic Bamboo Pads.
These pads are made with Edge-Grown Bamboo that is sustainably grown without pesticides or fertilizers. The organic bamboo is then 100% biodegradable and compostable, so you can feel good about using these pads while on your period. 
The pads themselves are ultra-thin towels that stay put thanks to their wings. They're also wrapped in the plant-based, plastic-free film — which means they're PETA-certified, vegan, and cruelty-free!
Check the latest price on:
13. OHNE 
OHNE is a UK brand that makes it easy to have a plastic-free, shame-free period. Their tampon subscription service features a variety of eco-friendly products, including your choice of sizes, and certified 100% organic cotton tampons with biodegradable cardboard applicators.
The OHNE tampon subscription box is an excellent option for anyone who wants to switch from disposable pads and tampons to eco-friendly alternatives. But if you're not ready for a monthly box or want to try out different reusable menstrual products before deciding which ones are right, there are plenty of other options.
14. My Freda  
If you want a more environment-friendly alternative to the disposable, plastic-filled pads available on the market, you'll want to try out one of these brands. My Freda is a UK brand committed to providing women with sanitary pads that are healthy for them and good for the environment.
The company's cotton tampons are biodegradable, non-toxic, chlorine-free, and free of polyester. 70% of their pads are made from renewable materials, while the night pads are manufactured using renewable energy.
Final Thoughts
One of the most sustainable, eco-friendly things you can do for your body and the environment is to switch from conventional disposable plastic pads to plastic free sanitary pads. The more women change, the closer we get to a cleaner environment and better health. Even if you don't choose to take part in this movement, I hope this article convinced you of the benefits of switching to sustainable period products and even inspired you to start your own campaign!
—
Get more tips on how to reduce plastic waste around your bathroom.
Browse our directory to find more eco-friendly brands.