Who doesn't love the excitement and tradition of the Christmas cracker and the 'BANG' with a gift or surprise that gets flung across the beautifully decorated Christmas table?
But the surprise is often met with disappointment as the gift is collected from wherever it landed. There is more than a cheap plastic toy that serves no purpose and is headed directly to a landfill. How about a cracker that still goes "BANG" and gives a gift that can be used and enjoyed?
Christmas is a time of joy, celebration, and giving. It's a time when families come together, exchange gifts, and enjoy delicious feasts. One beloved tradition during this festive season is pulling Christmas crackers. However, in recent years, there's been a growing awareness of the environmental impact of these holiday novelties. That's where sustainable Christmas crackers come into play.
In this comprehensive guide, we'll delve into the world of plastic-free Christmas crackers. We'll explore what they are, why they matter, and how you can make your holiday celebrations more sustainable. Whether you're an eco-conscious individual or just looking to add a touch of green to your festivities, this article is worth reading. Let's dive in!
The Problem with Traditional Christmas Crackers
Traditional Christmas crackers, while fun and entertaining, can have a detrimental impact on the environment. Most of these crackers are made with non-recyclable plastic components and glitter-coated cards, including small toys usually made from 100 percent virgin plastic, plastic hats, and other trinkets. Additionally, the packaging is often excessive and non-biodegradable.
This results in a considerable amount of waste generated during the holiday season, contributing to plastic pollution and overburdening landfills. Furthermore, the production of these crackers may not adhere to sustainable practices, further exacerbating their environmental footprint.
A British study found that in the UK alone 154 million crackers are pulled every year with 154 million cheesy jokes told the same day or night! On top of that, roughly 40 million crackers go directly into waste every year according to BusinessWaste.co.uk who asked 1,100 families about their Christmas habits when it comes to dealing with the Chroistmas day's rubbish. 99% of the respondents said that they simply threw Christmas cracker gifts in the bin at the end of the day.
Can you imagine how much is wasted worldwide in English-speaking countries that follow this tradition like the UK, Australia, and Canada?
Why Should You Consider Eco-friendly Christmas Crackers?
Eco-friendly Christmas crackers offer a sustainable and responsible alternative to conventional ones. By choosing such options, you can:
Reduce Plastic Waste: Purchase crackers from businesses that minimize or completely eliminate single-use plastic components, reducing plastic pollution during the holidays.
Support Sustainability: Support businesses that produce crackers using sustainable materials and ethical manufacturing processes, ensuring your purchase aligns with environmental and ethical standards. Examples of sustainable materials are recycled paper, cardboard, or natural fabrics.
Contribute to Recycling Efforts: Support crackers that are designed to be recyclable, helping to divert waste from landfills and promote recycling.
Enjoy Quality and Creativity: Eco-friendly crackers can be just as enjoyable and creative as their traditional counterparts, featuring unique designs, quality gifts, and personalization options.
Set an Example: Inspire friends and family, encouraging them to consider sustainability during the holiday season.
Now, let's explore specific aspects of these types of crackers in more detail.
Related: Reusable Gift Wrapping: How to Furoshiki?
What Types of Sustainable Christmas Crackers Are Available?
Eco-friendly Christmas crackers are designed with the environment in mind, with circular design instead of linear design. They prioritize sustainable materials, production processes, and disposal options. These crackers are a departure from the traditional versions, which often contain non-recyclable plastic, single-use components, and microplastics in the form of glitter, and create a significant amount of waste.
Eco Chrismas crackers aim to reduce their environmental impact by incorporating elements like recyclable, reusable, or compostable materials. They may also come in minimal or plastic-free packaging. There are at least 5 different types to choose from:
Ready-to buy Christmas Crackers with No Plastic: these have paper hats and little useful objects, including palm oil free small soaps, seeds, wooden fidget spinners etc.
Reusable Cracker Kits: these include all items needed to build them yourself but zero waste, which means you can reuse them next year.
DIY Christmas Crackers Kits: these are single-use but recyclable ready-made kits that have everything you need to build your own crackers. They may include the "strip" that allows for the BANG or not!
Make Your Own Crackers from Scratch: in this case, you need toilet rolls or kitchen rolls, nice gift wrapping paper, newspaper etc, the bon bons snaps, scissors and some glue or transparent tape. The video below explains how they are made.
Christmas BonBons Alternatives: like the BenBens which are made in the shape of a pyramid and include a thought-provoking question and a beautiful crystal set with its intention, just an idea if someone wants something different!
How to Make Eco-friendly Crackers?
Watch this Youtube video to see how to make your own crackers. As long as you have all materials, it's easy! Please refer below to the tip on how to find all sustainable materials and alternatives.
9 Best Plastic Free Christmas Crackers for a Sustainable Luxury Christmas Table Setting
Here is a suggestion for 9 eco Christmas crackers available in different countries with the option to purchase them directly from the manufacturers.
This post contains affiliate links, which means we may receive a small commission, at no cost to you, if you make a purchase through a link. This helps us continue the hard work we put into researching products and solutions.
Important Disclaimer: While we make our best efforts to scout plastic-free products around the world, we are also aware that sometimes we do have to make some compromises. In this article, we are presenting the best versions of what is available on the market, according to our values.
1) DIY Sets of Bon Bons by Cardboard Hunters – Australia
This small business is kept alive in memory of the founder and amazing creator Anerien who sadly passed away just before Christmas 2022. Her husband and 4 beautiful boys decided to keep the shop open to sell off the stock and showcase her creativity to the world. Anerien created this store to encourage people to skip the tacky, cookie cutter type Christmas Crackers you get from the shops and instead fill their own with the treats, jokes, and trinkets of their choice. The DIY Sets include all materials to easily assemble 4 recyclable crackers (cracker snap, double-sided tape, gold cord, string, cardboard cut already in the right shape) and are available in 55 paper designs from Aussie flowers, to Aboriginal prints. Please note that gifts are not included in these sets.
Materials: cardboard, paper, compostable string 
Where made: in Australia (Gold Coast)
Quantity in Box: a set of 4
2) The Conscious Cracker – Australia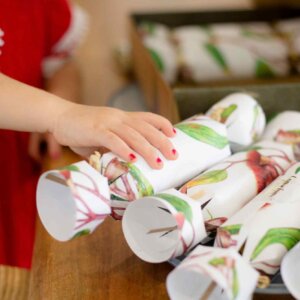 The Conscious Crackers are plastic free, palm-oil free, and made from 100% post-consumer recycled paper and printed with plant based inks. Each cracker contains high-quality sustainable gifts inside that are practical and plastic free like palm oil free small soaps and shampoo bars, seeds, wooden fidget spinners etc. They still go BANG and they still include Christmas jokes & paper hats. They are designed, printed, and handmade in Australia, on the beautiful Sunshine Coast.
Materials: 100% post-consumer recycled paper, compostable strings, plastic free gifts
Where made: handmade in Australia (Sunshine Coast)
Quantity in Box: pack of 6, 12, or 18
3) BenBens Eco Crackers Alternative by Purdy Grateful – Australia
BenBens have been created to inspire you to share stories and learn together, through practices grounded in gratitude, connection and presence. The name BenBen (aka the spiritual top of a pyramid) comes from the Ancient Egyptian mythology of the creation of the world. The BenBens are beautiful pyramid boxes, containing a thought provoking question or motto in a recycled card and a different crystal set with its intention like the mystical power of ancient pyramids. The company encourages us to reuse them, and if not possible to recycle them.
Materials: sustainably sourced and recycled paper, biodegradable and compostable festive strings, crystals.
Where made: designed and handmade in Australia (Brisbane)
Quantity in Box: box of 6
4) Little Green Cracker Company Luxury Christmas Crackers – UK
Little Green Cracker Company creates gorgeous luxury Christmas crackers made in the UK with beautiful green foliage festive design, hand-tied with biodegradable Tencel, raffia, or linen ribbon, that is compostable and has a lower environmental footprint than cotton or even better it can be reused for other presents. The gifts are also very useful like packets of wildflower seeds from Just Bee Honey, mini soap or shampoo bars from Natural Spa, wax melts from Kitchen Scents, teabags from Hampstead Organic Teas, or coffee bags from The Wee Tea Company, etc. They will be the cherry on the cake of your Christmas decorations on your dining table next to an eco-friendly Christmas tree and tree decorations!
Materials: paper, raffia, linen, Tencel
Where made: designed and handmade in the UK
Quantity in Box: box of 6
5) Kate Sproston Design Woodland Reusable Christmas Crackers – UK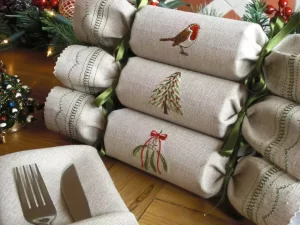 These reusable Christmas crackers are handmade in the UK and will last year after year. You can fill them in with a special gift, make an announcement, or use as a place marker at the Christmas dinner table. Alternatively, they are the perfect way to give the gift of money, tickets or vouchers.
The inside is made with a durable cardboard inner tube made from recycled material. The outside is made from 100% natural linen and embroidered with satin thread. Please note these crackers do not contain a snap and are not suitable for use as napkins or placemats.
Materials: embroidered linen, satin thread, satin ribbon
Where made: handmade in the UK
Quantity in Box: available as single, or in a set of 6
Related: Your Comprehensive Guide to a Plastic-Free Christmas
6) Reusable Sustainable Christmas & Party Crackers by Keep This Cracker – UK
These English Christmas crackers come flat-packed in reusable card wallets and are perfect for storing your crackers away for another year, making it a truly zero-waste experience. They come ready to pop into shape and fill with your own special gifts. They don't tear when you pull them. These crackers are perfect for families with pets as each comes with a low-noise / pet-friendly ecosnap® which pulls with a gentle pop. To reuse, simply replace the snaps. If you like your crackers with a bang, they sell also the standard noisy snaps.
Materials: printed with water/ vegetable-based inks on fully recyclable paper from responsible sources
Where made: designed and made in the UK
Quantity in Box: packs of 12
7) Personalised Fabric Christmas Crackers by Latter Lux – UK
Latter Lux offers personalised fabric reusable eco Christmas crackers on calico, handmade in the UK. You can customise the crackers with the names of your choice and use them as a name badge or tag at the festive table, and you can also fill them with your own gifts, like miniature bottles of alcohol, small candles, sweets, stationery, and so on. These beautifully embroidered crackers are a charming addition to any Christmas table or could be used as a gift for family or friends, i.e. to hand over a holiday, a voucher etc. You can also choose the font colour of your choice, among six options.
The ribbons are sewn in place and either end can be opened to pop little gifts in and out. Please note: the ribbons are made of synthetic materials. However, the wonderful thing about these crackers is that they can be reused for many Christmases to come.
Materials: cotton, Berisfords satin ribbon
Where made: designed and made in the UK
Quantity in Box: bought individually
8) TMG Zero Waste DIY Christmas Crackers Kits – UK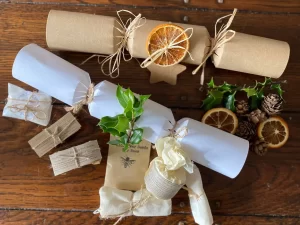 You can make your own homemade plastic free Christmas Crackers with these ready-to-assemble cracker sets. Every box includes mini zero plastic handmade cracker fillers and Christmas jokes printed on plantable seed paper. The crackers are recyclable and each pack include 6x boards (white or kraft crackers), snaps, paper hats, Christmas jokes printed on plantable seed paper, plastic-free cracker fillers, jute string, and the full instructions without any decoration.
Materials: plantable seed paper, cardboard, paper, jute
Where made: hand made in the UK
Quantity in Box: pack of 6
9) Affordable DIY No Snap Christmas Cracker Kits by Xinnun – USA / Canada / UK / Australia
We decided to include one affordable option for those large families and groups that might still want to lower their plastic footprint. These unfolded kits come in packs of 50 and need to be assembled. They are available in different prints, have no snap, and build cost-effective Xmas party table favors. They can be filled with loose chocolates, cookies, and candies not wrapped in single-use plastic. Please note: the ribbons are made of synthetic materials, however, they can be reused for other presents, please do not discard them.
Material: cardboard, synthetic ribbon
Where made: China
Quantity in Box: 50 packs
Visit the Amazon Store in the USA – Canada – UK – Australia
Related: Plastic-free Toys: Do Eco-friendly Alternatives to Plastic Toys Exist?
Tip: Eco-friendly Alternatives to Plastic Components in DIY or Reusable Christmas Crackers
Sustainable Christmas crackers are not just about eliminating plastic; they also embrace alternatives that are better for the environment. Here are some common plastic components and their eco-friendly alternatives:
Plastic Toys: Replace with small, sustainable gifts or keepsakes made from materials like wood, metal, or if you can't find anything else, recycled plastic materials.
Plastic Hats: Substitute with paper hats or fabric alternatives that can be worn and enjoyed during the holiday dinner.
Plastic Trinkets: Swap for items like biodegradable confetti, plantable seeds, or other eco-conscious novelties like soap bars, and edible gifts like chocolates, cookies, and loose candies.
Plastic Packaging: Minimize or eliminate by using recyclable packaging, or packaging that be composted or reused.
By choosing plastic free Christmas crackers, you not only enjoy the festive tradition but also make a positive contribution to the environment.
Conclusion: Reducing Single-use Plastic Waste During the Festive Season
The festive season often generates a substantial amount of single-use plastic waste, much of it originating from Christmas crackers. Traditional crackers typically include plastic toys, tiny gadgets, and plastic hats that serve no purpose beyond a brief moment of entertainment. Once the festivities are over, these plastic items often end up discarded and contributing to the global plastic pollution problem.
Plastic free Christmas crackers, on the other hand, eliminate these unnecessary plastic components. They replace them with eco-friendly alternatives that can be reused, recycled, or composted, reducing the amount of waste that ends up in landfills or the natural environment. We hope that this guide provided you with a lot of ideas to help you celebrate an eco friendly Christmas!