Sunscreen is one of the most popular beauty and wellness products that protect you from harmful UV rays of sunlight. The quality of sunscreen lotion is an important factor for the user to keep the skin healthy and free from any adverse side effects. The use of low waste and plastic-free sunscreen will not only take care of your well-being but also go a long way in protecting the environment by avoiding plastic waste. Sunscreens are essentially made with formulations that suit the requirements of UV protection, sweat, and weather resistance. But some of the components used in sunscreen are found to be problematic for the environment in the long run. Every year, a large quantity of sunscreen products is washed off into the oceans, and water bodies cause damage to marine species like coral reefs and creatures. The environmental concerns have encouraged manufacturers to come up with new formulations that are found to be safe and effective in reducing the harmful effects of plastics on the environment. 
Plastic Free Sunscreen Brands
The best sunscreen is the one that shields your skin from sunlight and also protects the environment from plastic waste. There are many eco-friendly yet effective sunscreens available that best suit your purpose of sun protection and anti-aging during summer days. Here is a list of the top seven plastic-free sunscreen brands for your reference.
1. Little Hands Hawai (USA)
This brand has focused on chemical-free formulations of sunscreen that are safe for users, especially children. Its sunscreen products are made of natural ingredients like jojoba oil and kokum butter. It also contains minerals in the form of zinc oxide that has good UV protection capability but doesn't get absorbed into your skin due to its greater particle size (more than 300 nanometers). It is available in aluminium packaging which also avoids plastic pollution. The price range varies from $8 – $75.
2. Raw Love (USA)
This branded sunscreen product is made up of non-toxic, water-resistant components like beeswax which is quite suitable for swimmers. It is a zero-waste, plastic-free sunscreen that contains natural ingredients obtained from plant products. The packaging is done in environment-friendly aluminium containers. The price range varies from $6 – $25.
3. Bee You Organics (USA)
This brand of sunscreen protects your skin from UV rays and also helps protect the environment with its ocean-safe mineral formulation that doesn't produce any waste. The product is popular for its scented version which is made with tea tree oils. The price ranges from $13 – $59.
4. Herbal Chest (USA)
It is a popular brand famous for its herbal products. It has created a moisturizer with an SPF factor just ideal for dry and sensitive skin. It contains organic vegetable ingredients that include shea butter, raspberry seed, and sunflower oil among others. It also contains zinc oxide in non-nano size as a key component for skin protection. The price ranges from $12 – $30.
5. Raw Elements (USA)
This is a natural sunscreen brand that is formulated keeping in mind the environment and ocean protection by incorporating zero-waste ingredients. The product contains all organic components along with zinc oxide for broad-spectrum sunlight protection with no side effects. This zero-waste tinted sunscreen is available in aluminium tins for $18.99.
Related: 8 Plastic Free Shampoo Brands You Can Feel Good About Using
6. Tierra and Lava (Guatemala)
It is a mineral-based sunscreen with a unique formulation of vanilla and turmeric that are perfect for sensitive skin types. This sunscreen formulation contains coconut oil, cocoa butter, turmeric root, and vanilla bean extracts that not only enhance beauty but also lend to an attractive fragrance. Packed in recyclable metal containers, this mild sunscreen is priced at $20.
7. Sunbutter Skincare (Australia)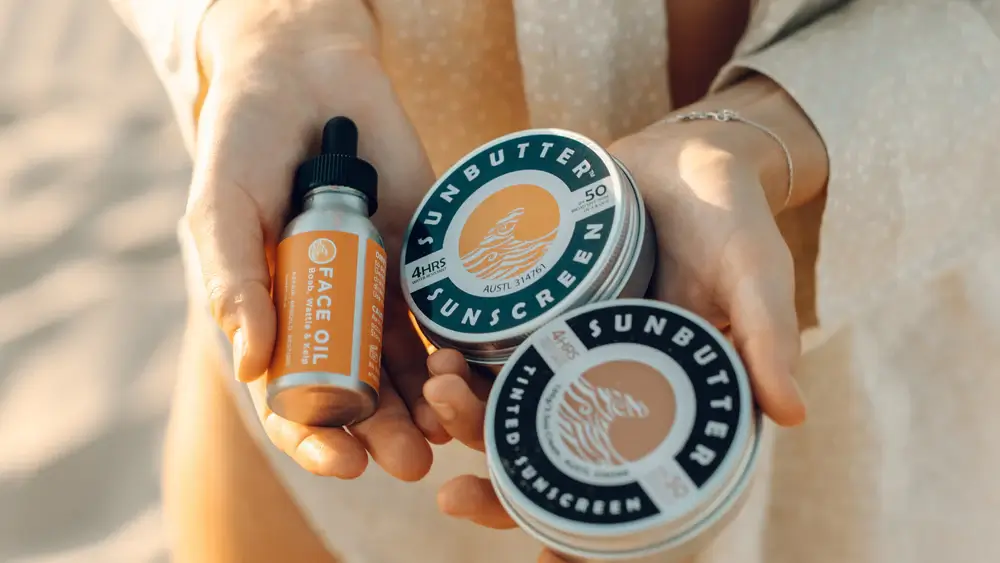 It is Australia's leading skincare brand and is renowned for making some of the world's safest sunscreen products. It regulates the ingredients of beauty products in the same way as medicines and achieved approval from Australia's Therapeutic Goods Administration (TGA). The Sunbutter sunscreen lotions are made of coconut oil, castor oil, and candelilla wax along with zinc oxide as the sun protection mineral component. The price of this product starts from AUD $29.25.
8. Sun Juju (Australia)
Sun Juju was born from a need for a natural, skin-kind sunscreen that felt comfortable to wear daily. It has been designed as the last step in your skincare routine, it leaves no whitecast or greasy feeling on the skin. It is naturally broad spectrum and contains Kakadu Plum; nature's highest source of Vitamin C. It guards the skin from free radicals and excess UVA, UVB and blue light — without the need for hormone-inhibiting chemical filters that harm our bodies and the reefs. It comes in plastic free and infinitely recyclable aluminium packaging and 5% of profits are donated to plant kelp. Priced at AUD $34.99 and made in Byron Bay, Australia.
9. Sunlayer (Australia)
Sunlayer have launched a high quality SPF50+ sunscreen, TGA & FDA approved in April 2022 after years of research. It's vegan, cruelty free and safe for our oceans, soft and not greasy on the skin. Contrary to most plastic free sunscreens, it doesn't come in an aluminium tin but it in an aluminium tube, which makes it even easier to open and close and use effectively. It is proudly made in Western Australia. The price is AUD $37.
10. Winki Zinc (Australia)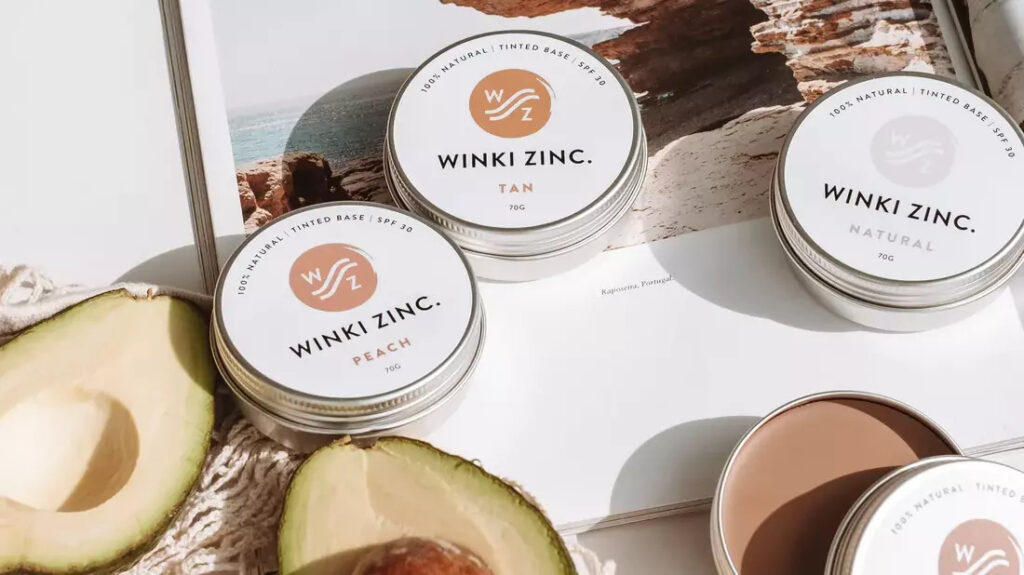 Winki Zinc have developed a nourishing, high-quality tinted zinc with SPF 30 and made with only natural ingredients. All SPF rated products are formally tested by a third party SPF testing laboratory and comply with Australian Sunscreen Standard AS/NZS 2604:2021. Their colour range has been refined over three years to blend naturally with all skin tones from very light, to very dark. Lip Zinc shades to either blend neutrally or add a pop of colour to the lips & cheeks. All products are offered in plastic free packaging: either handy compostable paperboard tube or an infinitely recyclable aluminium tin.
Related: Reef Safe, Plastic Free Sunscreen: Our Guide
Conclusion
In today's fashion and beauty-oriented lifestyle, skincare products are in high demand. As people become more conscious about health and hygiene, beauty products have to meet some essential requirements in taking care of the well-being of the users without causing any adverse effects. At the same time, the environmental impact of such products has also become a matter of concern due to the presence of chemical and toxic components that leads to higher waste generation and increased pollution. So there is a growing demand for more zero-waste, plastic-free, organic products that protect the environment and marine lives from harmful effects. 
—
Browse our directory to find more eco friendly beauty & personal care brands.